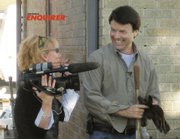 Raleigh, N.C. — For nearly a decade, Andrew Young was John Edwards' loyal foot soldier as Edwards rocketed from millionaire trial lawyer to U.S. senator to two-time White House candidate.
When Edwards needed someone to scout locations for a Senate campaign office, he sent Young. When TV trucks converged on Edwards' house in 2003 and damaged the neighbors' lawns, Young was told to take care of it. When Edwards was raising money for his second run at the White House, Young worked the phones.
And after the National Enquirer reported that Edwards had an affair with a video producer, Young issued a statement in December saying that he - and not the candidate - was the father of the woman's baby.
But given Young's unswerving devotion to Edwards - and given Edwards' lies in initially denying he cheated on his wife - some campaign watchers wonder whether Young, a 42-year-old married man, is taking the fall for his boss.
"Given the pattern of the thing, it's not unreasonable for people to ask" whether the child belongs to Edwards, said Gary Pearce, a longtime Democratic operative in North Carolina and a consultant to Edwards' 1998 Senate bid.
Around the same time that Young put out a terse statement through his lawyer in which he claimed to be the baby's father, Edwards' former mistress, Rielle Hunter, issued her own statement saying the same thing.
Then, only weeks before the first vote of the 2008 presidential election season took place in Iowa, Young abruptly left the Edwards campaign and his $90,000-a-year job as a fundraiser, and dropped out of sight. He left North Carolina for California in a move bankrolled by Edwards' national fundraiser.
In his confessional interview Aug. 8 with ABC, Edwards insisted he could not have fathered Hunter's daughter, born at the end of February, because the affair ended in 2006, though he added he would be "happy to take a paternity test and would love to see it happen." But Hunter ruled out such a test the next day.
Young, like Hunter, has gone into seclusion, and he has not returned messages in months. Calls this week to attorneys who represented him in the past were not returned.
Copyright 2018 The Associated Press. All rights reserved. This material may not be published, broadcast, rewritten or redistributed. We strive to uphold our values for every story published.