On the street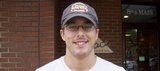 I think there is. The truth is always stranger than fiction, because fiction is bound by reality. I like to think that kind of stuff is at least possible.
Los Angeles — Bigfoot has been found in the Georgia woods and is being held in a cooler at an undisclosed location.
So say two self-proclaimed Bigfoot trackers, Matthew Whitton and Rick Dyer, who held a news conference in Palo Alto on Friday to publicize their claim of having found the elusive Sasquatch, or at least the body of one, in the northern part of the Peach State. The exact location is being kept secret, they said, to protect other Bigfoots still wandering there.
The public was excluded from the conference, but a picture of the supposed 500-plus-pound dead biped was posted online on www.searchingforbigfoot.com, looking like a mangy mound of fur, entrails and the pinched face of a close cousin to "Star Wars"' Chewbacca - all crammed into a water-filled icebox.
Some Bigfoot enthusiasts were less than convinced.
"It looks like a costume, a waterlogged costume that's been stuffed into a freezer," said Jeff Meldrum, an associate professor of anatomy and anthropology at Idaho State University, and one of the few PhD's conducting Bigfoot field work.
The Web site said the male, flat-footed man-ape, or RICKMAT in honor of its locaters, measures 7 feet, 7 inches tall, bears reddish hair, blackish-grey eyes and humanlike teeth.
Claims of finding Bigfoot have been legion; zealous pursuers have girdled the globe in search of the legendary creature. But interest piqued again several weeks ago when Whitton and Dyer went on an Internet-based radio show, the "Sasquatch Detective," to make their announcement.
Whitton is a Georgia police officer on administrative leave after being wounded on duty. Dyer is a former correctional officer. The two co-own www.bigfootracker.com and Bigfoot Global LLC, which offers Bigfoot expeditions.
Copyright 2018 The Lawrence Journal-World. All rights reserved. This material may not be published, broadcast, rewritten or redistributed. We strive to uphold our values for every story published.