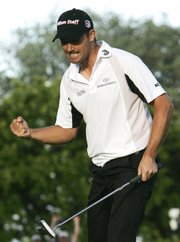 Bloomfield Township, Mich. — Padraig Harrington isn't interested in sentimental story lines that keep popping up at the majors. He's too busy winning them and writing his name into the history books.
First came the British Open, where he ended a fairy tale for Greg Norman with a 32 on the back nine of Royal Birkdale. Then came the PGA Championship, where even Harrington could sense destiny on the side of Sergio Garcia.
It turned out to be a familiar story Sunday - and for Garcia, a familiar finish.
Three shots behind at the turn, Harrington again shot a 32 on the back nine thanks to three putts that major champions make - a 12-footer for par on the 16th to tie, a 10-footer at No. 17 to take the lead and a 15-foot par putt at the end that set off another celebration.
Harrington closed with a 4-under 66 at Oakland Hills for a two-shot victory over Garcia and Ben Curtis to become only the fourth player to win the British Open and the PGA Championship in the same year.
Along the way, he ended 78 years without a European winner at the PGA Championship. And to top it off, he became the first European ever to win consecutive majors.
"I obviously hold a lot of European players who I grew up watching in high esteem," Harrington said. "To believe that I achieved something they hadn't is very special."
He showed no regard for one of his own for the second straight year. Garcia ran his record to 0-38 in the majors, right when the 28-year-old Spaniard felt it was all coming together. He had a one-shot lead and was in the middle of the 16th fairway when he hit into the water and had to scramble for bogey. Then he missed a four-foot birdie on the 17th to match Harrington. And he could only watch - again - as Harrington knocked in a par on the last.
"I have no regrets of anything I did out there," Garcia said.
Harrington talked about going to another level after winning the British Open, and he wound up in elite company a month later. He joined Tiger Woods (2000 and 2006), Nick Price (1994) and Walter Hagen (1924) as the only players to win the PGA and British Open in the same year. And he now has won three of the last six majors, accumulating them at a rate only Woods can appreciate over the last 25 years.
"That's Tiger-like, right there," Curtis said.
Copyright 2018 The Lawrence Journal-World. All rights reserved. This material may not be published, broadcast, rewritten or redistributed. We strive to uphold our values for every story published.