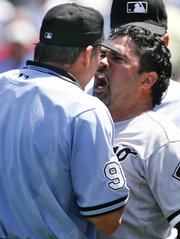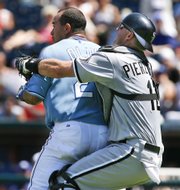 Kansas City, Mo. — The Chicago White Sox dropped out of first place for the first time since May 16, but they didn't go down without a fight.
There was a bench-clearing brawl in the fifth inning and five ejections total in Chicago's 14-3 loss to the Kansas City Royals on Sunday. Mike Aviles went 4-for-4 with a home run, and Zack Greinke pitched well into the seventh inning before he was among those sent to the clubhouse.
Royals catcher Miguel Olivo was hit in the wrist by a pitch from D.J. Carrasco and charged the mound to start the brawl. Olivo pulled up as if he was ready to punch Carrasco, a former Royals pitcher, when White Sox catcher A.J. Pierzynski grabbed him from behind.
Olivo instead hit Pierzynski in the head, and by then players from both dugouts and bullpens had rushed the field.
Olivo, Carrasco and White Sox manager Ozzie Guillen were ejected when order was restored.
"In that situation, I had to believe he was trying to hit me even with the bases loaded," Olivo said. "We were leading by six runs. They come inside hard three times. That is the team that has hit me three times already. It seemed so obvious to me."
Olivo was suspended four games at the beginning of this season after throwing a punch at Jose Reyes of the New York Mets during the final weekend of last season while with the Florida Marlins, also igniting a bench-clearing brawl. Another suspension could be coming.
"I hope not, but if it's coming, I need to take it because I charged the pitcher," Olivo said. "I'm a man. I take my consequences. I know what I did. I think I did the right thing."
Aviles' four-hit game matched his career high and raised his average to .340. It was his third four-hit game in 52 games since a May 29 promotion from Triple-A Omaha.
The White Sox' 19th loss in 28 road games set them back a half-game behind Minnesota in the AL Central, after the Twins defeated the Cleveland Indians.
The Royals collected 19 hits, a season high, in each of the final two games of this series. Every Royal starter except Esteban German had a hit.
All of it was overshadowed by the fifth-inning fight.
"Olivo overreacted to the situation," Guillen said. "I wonder why a guy (plate umpire Tim Timmons) thought we were going to hit the guy with the bases loaded with a pitch in on the hands. This is my 20-something year in the big leagues and I still don't understand what common sense they have when they make those decisions.
"I'm not going to bring a guy in that throws 85 miles an hour to hit somebody. I guarantee it. I'll bring (Octavio) Dotel, I'll bring (Matt) Thornton. Then I will tell them to throw at them. That's the way I do business."
Carrasco said he was surprised when Olivo came to the mound.
"I came in and I'm trying to get a double play ball," Carrasco said. "I threw him my sinker in to try to get him to get a ground ball out of that, and it got away from me. I went to pick up the ball, and he's charging at me.
"I was just standing on the mound, and the umpire came up to me and said, 'You're out of here.' They might think there is something stemming from before, but I didn't think I was being thrown out of the game. Obviously, they thought differently, and they make the call."
Pierzynski also didn't understand why the umpire thought Carrasco was trying to hit Olivo.
"We're already losing," Pierzynski said. "We don't play like that. Ozzie doesn't play like that. This team doesn't play like that."
Greinke (9-7) held the White Sox to three hits and no runs the first six innings, then allowed two runs in the seventh before hitting Nick Swisher with a pitch. Greinke was ejected along with Royals manager Trey Hillman.
Greinke, who lost July 18 at Chicago when he allowed seven runs on 11 hits in three innings, struck out six without a walk, laboring through 6 1/3 innings in 98-degree weather.
"That's the hottest I remember pitching in," Greinke said.
Olivo contributed a two-run double in the second and had three RBIs. Billy Butler had three hits and drove in two runs. Jose Guillen had two hits, including his team-leading 16th home run and second in as many games. Rookie Mitch Maier also had a career-high three hits.
Clayton Richard (0-2), who was making his third big league start, gave up nine runs, six earned, on 11 hits in 4 1/3 innings, his ERA ballooning to 10.38.
Dewayne Wise's triple in the seventh scored Brian Anderson with the first White Six run. A.J. Pierzynski added a home run in the eighth off Robinson Tejeda.
Notes: Greinke's throwing error in the fourth ended a 71 inning errorless streak by the Royals, their longest of the season. ... The Royals had 19 or more hits in back-to-back games for the first time in franchise history.
Copyright 2018 The Associated Press. All rights reserved. This material may not be published, broadcast, rewritten or redistributed. We strive to uphold our values for every story published.