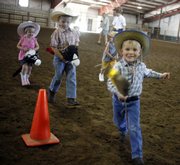 Livestock, a world of entries, a carnival and a demolition derby - see the sights and hear the sounds of the 2008 Douglas County Fair.
Sam Wilson, 19, didn't think too much about it being the end of an era Saturday at the Douglas County Fair.
After all, he has grown up showing sheep with 4-H, alongside his two older brothers and his parents, of Worden, all part of a 40-year family tradition.
"It's kind of strange," he said. "I don't really know what to think about it. I'll miss it some."
Because 19 is the cut-off age for 4-H competitors, after today the Wilsons will become observers instead of competitors.
"It's time for an era to come to a close," said Sam's mother, LaDonna Wilson, 47.
When LaDonna married Sam's father, Larry Wilson, 47, she didn't know what she was getting herself into. She didn't know she'd learn the ins and outs of caring for and showing livestock throughout the year.
"We didn't do all the fun stuff like cooking and sewing that I knew how to do," she said. "We did animals."
But that's what happens when you become a Wilson.
It all started in 1966 when Larry and his four brothers - Bob, 44, Jefferson City, Mo.; Ron, 50, Centropolis; Bill, 51, Vinland; and Lynn, who later died - received their first sheep from their grandfather.
In 1968, the brothers began showing the sheep at the county fair, and ever since at least one family member has carried on the tradition every year.
"Which I think is amazing," Larry said. "I'm kind of sad in a way, kind of excited to do something else in a way, to come and just maybe look instead of having to do something all the time."
Larry illustrated that point quite well Saturday during the Creative Fitting and Showing Contest. That's when the adults let loose a bit and show off their livestock.
In his spinwheel hat, Larry entered the ring of the Community Building full of enthusiasm. He and LaDonna rushed to one side where Larry promptly stripped off a pair of shorts and took a seat in a lawn chair in his swimsuit next to LaDonna, doing the same. They sat under a "2009" poster.
"We've been telling people it's our last year, so next year : we're just going to sit back and relax in lawn chairs and be taking it easy."
The family, which includes Sam's brothers - Tom, 24, Colorado; and Cody, 21, Worden - has competed year-round for years.
"It's always exciting to see them show," Larry said. "But getting there, like most 4-H parents, it kind of wears you out to try and get them to do the right thing and get them to do what they are supposed to do."
Kari Wempe, superintendent of the creative showing contest, said the Wilsons' leaving competitively is a "huge loss."
"It's a great family and great kids," she said. "They have brought a lot to the process."
Larry will auction off a piece of their family tradition today . It's their "deluxe fair chair," a lawn chair that's been with the family at the fair since 1992. They've used bale and string to keep it in one piece.
"It's as much a tradition at the fair as cotton candy and snow cones," Wempe said.
They will give it away to the person who buys Sam's lamb at the 3 p.m. 4-H livestock auction.
Copyright 2018 The Lawrence Journal-World. All rights reserved. This material may not be published, broadcast, rewritten or redistributed. We strive to uphold our values for every story published.