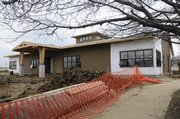 Bishop Seabury Academy's head of school Don Schawang hasn't tried to mask his feelings about the former clubhouse next to the school's main building, 4120 Clinton Parkway.
Last October, he even went as far to say a hole in the ground made him happy because a construction crew had made quick work of ripping down the old building to make way for the new Reese Hall, which will house the independent school's visual and language arts classrooms.
"It's very exciting. Every time I walk into the building to check in on the progress, it makes me excited for the future," Schawang said.
A Mar Lan Construction crew has been hard at work for several months, and they hoped to have the building ready for the school's 108 students this spring for the last few weeks of school.
The new building at Seabury is just one of a host of projects and plans that leaders of Lawrence private schools have in the works.
At nearby Corpus Christi Catholic School, 6001 Bob Billings Parkway, B.A. Green Construction continues work it began in November near the church and school.
Parishioners have raised $4.3 million in pledges in a capital campaign - $3.6 million will pay for the new gymnasium, kitchen and cafeteria west of the main building of the church.
It will benefit the school and its 170 students, especially for physical education and its youth organization games and practices. Tom Jennings, the building committee chairman, said contractors are on target to have the new building done in time for school to start at the end of the summer.
St. John Catholic School, 1208 Ky., is also benefiting from a new preschool and a Spanish-language program. More than 260 students attend there.
And Veritas Christian School has outgrown its space at 256 N. Mich., said administrator Jeff Barclay. A committee has been studying the space issue for the school, which has grown to about 165 students with 15 full-time teachers and nine part-time ones.
The school has expanded its athletic programs recently, and the committee is trying to decide whether to build a new building or look at buying an existing one for renovation.
A capital campaign could also be near when a decision is made.
"We know that day is coming, and we're working on our donor base to get that solid to know where we're looking," Barclay said.
The new Seabury building is the major component of a $1.5 million capital campaign. Gilbert and Lou Reese, of Granville, Ohio, grandparents of Seabury students, agreed to match grants for the campaign up to $500,000.
Schawang, who is in his first year as head of school, was formerly the director of arts, which makes him glad to see the six new classrooms close to completion.
"I always want to make the best possible school for the students," he said. "I'm very excited and personally pleased to see this space for the students."
Copyright 2018 The Lawrence Journal-World. All rights reserved. This material may not be published, broadcast, rewritten or redistributed. We strive to uphold our values for every story published.