Photo Gallery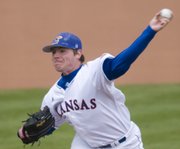 KU baseball vs. Texas Tech
Finally.
With the way the crazy Kansas weather has plagued the Kansas University baseball squad this season - and seasons past - it was only a matter of time before it turned into a positive for the team.
With Friday's temperature hovering in the low 40s and a strong wind blowing out of Hoglund Ballpark, it was prime baseball weather for the Jayhawks. They took advantage of it in a 9-5 victory over Texas Tech, which ended KU's six-game losing streak in Big 12 Conference play.
"Our hitters love this kind of weather," KU starting pitcher Nick Czyz said. "When the wind's blowing out, they absolutely love it. It was huge. Thankfully those guys showed up today, and I can't thank those guys enough."
The junior pitcher earned his second win of the season by going 6 1/3 innings and giving up three earned runs. He allowed just three hits while striking out seven batters.
"Most importantly, you've got to keep the ball down," Czyz said of pitching in windy conditions. "When you leave the ball belt-high, hitters will be able to put it in the air, and the wind will take it from there. So the key for me was keeping the ball down."
The Red Raiders fought back in the top of the seventh to cut the game to a 5-4 Kansas lead. But the Jayhawks responded in the bottom half of the inning - by using the jet stream.
With two outs and two runners on base, Preston Land capped off a four-run rally with a three-run blast over the left-field wall that scored Ryne Price and Buck Afenir.
"They threw me change-ups in all three of my at bats previous to that," Land said. "He made me look stupid on the first change-up he threw me, and I just sat back on the next one he threw me and got a good piece of it."
Land's long ball was the second home run for KU. John Allman hit a two-run shot as part of Kansas' three-run first inning.
"We're one of the most physical teams in the league, and we've put up pretty good numbers (offensively) all season long in the conference. We've just struggled on the pitching side of the ball," KU coach Ritch Price said. "Hopefully this will get the thing going in the right direction a little bit."
The Jayhawks return to Hoglund at noon today for the second game of the series with the Red Raiders. The game will be televised nationally on Fox Sports Net (Sunflower Cable channel 36).
Copyright 2018 The Lawrence Journal-World. All rights reserved. This material may not be published, broadcast, rewritten or redistributed. We strive to uphold our values for every story published.