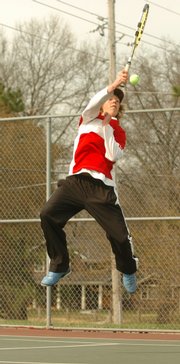 Not quite halfway through Saturday's round-robin boys tennis tournament at Lawrence High, Lions coach Steve Hudson wasn't sure what he had on his hands.
"This is our maiden voyage for this tournament," said Hudson, who came up with the concept this year. "We'll see if it sinks or sails."
By late afternoon, Hudson had his answer. The Lions were sailing smoothly to an inaugural invitational victory, the first victory for Hudson in two years as either girls or boys head coach. Lawrence edged Lansing in total points to claim the six-team title.
"We've finished close so many times," Hudson said. "It's nice to see the recognition for our guys, and they're pretty excited. It can definitely boost their confidence."
Each team at the meet consisted of two singles players and two sets of doubles players. Among the other teams present were Mill Valley, Hiawatha, Seabury Academy and Lawrence's junior varsity squad, which played separately from the varsity.
All four of the Lions' varsity positions earned either first or second place. At No. 1 singles, Taylor Seratte dominated, going 5-0 with nobody winning more than four games against him. Zhennan Liu also went 5-0 at No. 2 singles for LHS. In doubles, John McGrew and Ryan Abbott claimed first at No. 1 after a three-way tiebreaker was decided. Thomas Zheng and Michael Sang took second at No. 2 doubles.
Lawrence's JV was led by Byron Varberg at No. 2 singles, who went 3-2 to take third place. The No. 2 doubles tandem of Will Conley and Mac Moore also finished 3-2 for third place.
"It's kind of cool," Seratte said of the eight-game, pro-set format that left little time for resting. "It's fun to play some smaller schools and see what everyone else has in the state."
Because of a scheduling conflict with the school choir, Seabury brought just four of its 10 players to the meet. None won a match. But Seahawks coach Scott Elwell, who is coaching the first all-boys team in school history, still deemed the event a success.
"I think it's great that they're able to get all these teams out here and compete," Elwell said. "The biggest thing for our kids is to get a lot of match play because they're so new to the sport, that's what they're lacking."
Hudson said the extra matches would come in handy late in the season. LHS will travel to Free State High on Monday afternoon.
"It seems like this meet went well," he said. "I'd love to have this every year that I'm the coach. And you can't do better than first."
Copyright 2018 The Lawrence Journal-World. All rights reserved. This material may not be published, broadcast, rewritten or redistributed. We strive to uphold our values for every story published.