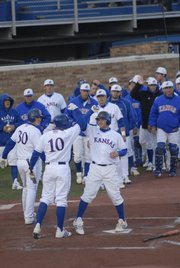 A fab first, then a fast fade.
"That was one of our worst offensive performances of the season after the first inning," Kansas University baseball coach Ritch Price said.
No. 8-ranked Wichita State shook off an early 3-0 deficit and posted a 7-3 victory over the Jayhawks Tuesday night at Hoglund Ballpark.
It was the 18th straight victory for the surging Shockers (21-3) and their fourth straight over the Jayhawks.
This one started promisingly for Kansas. Southpaw starter Shaeffer Hall struck out the side in the top of the first, then the Jayhawks erupted for three runs in the bottom of the inning.
An error, a sacrifice bunt and Buck Afenir's RBI single gave KU a 1-0 lead, and, minutes later, Ryne Price added to his school career home run total with his 31st, a rainbow over the right-center-field fence.
End of offense. The Jayhawks (18-13) managed only three more hits - all singles - off a trio of Wichita State hurlers the rest of the way. And for the first time in 31 games, no KU hitter was able to coax a walk.
Worse, the Jayhawks struck out 14 times. Starter and winner Tim Kelley (3-1) fanned five, Logan Hoch had six whiffs, and Tyler Fleming, who earned his third save, added three as he struck out the side in the ninth inning.
"We didn't do a very good job of making adjustments at the plate," Price said. "Their pitchers did a really good job of throwing off-speed pitches for strikes, then we were taking fastballs over the plate."
Of the nine KU regulars, only shortstop Erik Morrison avoided a strikeout. He was also the only KU player to reach base twice. Morrison was hit by a pitch in the seventh and stroked a harmless line single to left with two outs in the ninth.
"You look at the scoreboard, and it looks like we played them OK," Morrison said, "but we let our bats get away from us. It's kind of a letdown the way we played, even though the scoreboard looks like we played decent."
Hall pitched decently until back-to-back doubles by Tyler Hill and Kenny Williams Jr. to start the third led to a three-run frame that tied the score.
WSU snapped the 3-3 deadlock in the fifth on a single, a pair of walks and a groundout, then added single runs in the sixth, seventh and ninth while the Jayhawks' bats continued to fizzle.
Four KU pitchers posted 11 strikeouts, but that quartet - including loser Brett Bollman (2-2) - also walked six Shockers, including leadoff hitter Andy Dirks three times. Dirks scored twice.
Over the weekend, the Jayhawks dropped three games to No. 17-ranked Texas A&M; despite scoring a total of 20 runs during the series.
"Today we didn't look like the same team," Price said. "When (WSU) got the lead, I think some of our guys were pressing a little bit instead of letting it come to them."
Kansas will try to snap a four-game losing streak when it plays host to College of St. Mary, an NAIA school, at 6 p.m. today.
Copyright 2017 The Lawrence Journal-World. All rights reserved. This material may not be published, broadcast, rewritten or redistributed. We strive to uphold our values for every story published.