2008 NCAA Tournament
Press Conferences & Post-Game Interviews
Bill Self's April 1 pre-Final Four press conference
KU coach Bill Self met with the media in Hadl Auditorium Tuesday to discuss the upcoming Final Four, in which his team is part of history, with all four one-seeds having advanced to San Antonio. Self talked in-depth about gameplanning for North Carolina, plus again denied rumors that he will leave Kansas the end of the year to take over at his alma mater for Sean Sutton, who resigned earlier in the day as the Oklahoma State men's basketball coach.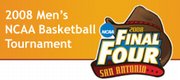 Get your March Madness fix at KUSports.com.
Stillwater, Okla. — Only two years into his tenure, Sean Sutton resigned under pressure Tuesday as Oklahoma State's basketball coach following a 17-16 season.
Athletic director Mike Holder met with Sutton on Monday, two weeks after the Cowboys finished their season. Holder said Sutton knew the expectations for a program that reached the Final Four twice with Sutton on his father's staff.
"I think Sean was probably a victim of those expectations," Holder said. "He was put in a tough situation. It's hard enough to follow a legend. But when that legend is your father, that's probably tough to the third power. Perhaps, in a different set of circumstances, he would have enjoyed more success.
"Life is not fair. Athletics is not fair," he said. "At the end of the day, I feel like it's the right decision."
Holder said he and Sutton agreed on Sutton's decision to resign. Sutton did not attend a news conference at the university Tuesday and did not return messages left by the Associated Press on his cell phone.
"It has been a great experience and I have loved every minute of my time here at OSU," Sutton said in a statement released by the university.
Sutton was two years into a five-year contract worth $750,000 a year that he had agreed to when he was still an assistant on his father's staff. It called for him to be the head coach-designate, meaning he would take over when his father left.
Holder declined to reveal specifics of the university's buyout offer of that contract. But university spokesman Gary Shutt said after the news conference that details of the offer still are being worked out by attorneys and should be made public.
Holder said he did not speak with Eddie Sutton about the decision because "Sean's got to stand on his own two feet on this one."
Holder said he has not contacted any other schools to ask to speak with their coaches. Two prominent coaches with connections to either Oklahoma State or the state of Oklahoma, Bill Self of Kansas and Billy Gillispie of Kentucky, have indicated they would not leave their current jobs.
Gillispie, a former assistant under Self at Tulsa, coached at Oklahoma State's Big 12 Conference rival, Texas A&M;, until this past season, when he went 18-13 at Kentucky. He never has signed a contract at Kentucky, instead working under a two-page memorandum of understanding that details his compensation package.
Sean Sutton's status had been a subject of speculation for much of the second half of the season, beginning when the Cowboys lost six in a row.
Copyright 2017 The Associated Press. All rights reserved. This material may not be published, broadcast, rewritten or redistributed. We strive to uphold our values for every story published.