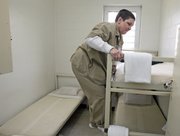 Hardwick, Ga. — Razor wire topping the fences seems almost a joke at the Men's State Prison, where many inmates are slumped in wheelchairs or leaning on walkers or canes.
The increasingly common number of geriatric inmates is outpacing prison growth as a whole.
Tough sentencing laws passed in the crime-busting 1980s and 1990s are largely to blame. It's fueling an explosion in inmate health costs for cash-strapped states.
"We've got some old guys who are too sick to get out of bed," said Alan Adams, director of Health Services for the Georgia Department of Corrections. "And some of them, they're going to die inside."
Justice Department statistics show that the number of inmates in federal and state prisons age 55 and older shot up 33 percent from 2000 to 2005, the most recent year for which the data was available. That's faster than the 9 percent growth overall.
The trend is pronounced in the South, with some of the nation's toughest sentencing laws. In 16 Southern states, the growth rate has escalated by an average of 145 percent since 1997, according to the Southern Legislative Conference.
Rising prison health care costs helped fuel a 10 percent jump in state prison spending from fiscal year 2005 to 2006, according to the National Conference of State Legislatures.
The graying of the nation's prisons mirrors the population. But many inmates arrive after years of unhealthy living, such as drug use and risky sex.
Once they enter prison, they aren't eligible for Medicaid or Medicare, so the state shoulders the health care burden alone.
Estimates place the annual cost of housing an inmate at $18,000 to $31,000 a year. In addition are other, less obvious expenses. For instance, elderly inmates can't climb to the top bunk so they sometimes need to be housed in separate units.
The U.S. Supreme Court ruled in 1976 that inmates have a constitutional right to health care. But that can depend on where an inmate is locked up.
In Alabama, the Southern Center for Human Rights in 2005 filed a federal class action lawsuit to force the Hamilton Aged and Infirm Correctional Facility to improve conditions. Prisoners with serious medical conditions sometimes had to wait several months or more for treatment, the lawsuit said.
A federal judge in 2006 appointed a receiver to oversee California's prison system after finding that an average of one inmate a week was dying of neglect or malpractice.
Reacting to violent crime in the 1980s and 1990s, state lawmakers passed two- and three-strikes laws and abolished parole.
They are now seeing the results of those laws, said Ronald Aday, professor of aging studies at Middle Tennessee University who has written a book on aging prisoners.
"This number is going to keep going up and up," Aday said, "until they address the issues that are putting these people there in the first place."
Copyright 2018 The Associated Press. All rights reserved. This material may not be published, broadcast, rewritten or redistributed. We strive to uphold our values for every story published.