Danielle Price reads in Hebrew from the Book of Genesis.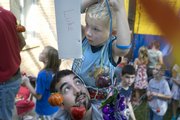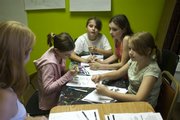 It's not every day that the reading of Scripture is cause for dancing.
But that's exactly the way it is with Simchat Torah, a holiday Jews will celebrate next week.
Every week at Friday Shabbat services, members of the Lawrence Jewish Community Center, 917 Highland Drive, read several chapters of Scripture from the Torah.
"On Simchat Torah, we read the last section of Deuteronomy, and immediately following that, we read the opening section of Genesis," says Danielle Price, a member of the LJCC's rituals committee. "It reminds us the study of Torah is lifelong and never-ending."
This year, Simchat Torah - which roughly means "rejoicing in the Torah" in Hebrew - falls on Wednesday for reform Jews. Orthodox Jews will celebrate the holiday on Thursday.
At the LJCC, where services begin at 6 p.m., the copies of the Torah are taken from their usual storage space and paraded around the sanctuary seven times, with members carrying colored flags, before the Scripture selections are read.
"It's very festive," Price says. "It's wonderful we get to transition once again."
Simchat Torah falls in the middle of a busy time of Jewish High Holidays.
Price explains how it relates to other holidays this way: "During the Days of Awe - the days between Rosh Hashana and Yom Kippur - we are focused on reflection and repentance, hoping to be inscribed in the book of life for the next year. Shortly after Yom Kippur is Sukkot, which is a joyous holiday, quite the opposite of the Days of Awe.
"On Sukkot we rejoice in the fall harvest as well as remember our wandering in the desert. On Simchat Torah, we continue rejoicing, this time having received the Torah. So Simchat Torah fits in as a continuation of our rejoicing."
David Berkowitz, vice president of the LJCC, says there are variations among how synagogues celebrate Simchat Torah. That's partly because it's not a holiday found in Scripture.
For instance, some have more music and dancing than others. Others serve candied apples, which allude to the sweetness of the Torah, and the fact it's often referred to as a "tree of life."
"There are a lot of different traditions in different synagogues," Berkowitz says.
But all of the ceremonies have one purpose, he says: "To show the study has no beginning or end. It's a circle."
Copyright 2018 The Lawrence Journal-World. All rights reserved. This material may not be published, broadcast, rewritten or redistributed. We strive to uphold our values for every story published.