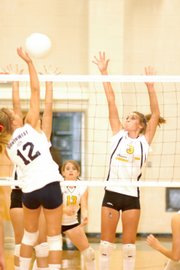 Tonight, Southwest Junior High will face off against Overland Park Aquinas in a match-up of two of the area's premier freshman volleyball teams.
The Bulldogs have racked up nearly 20 victories this season, and Aquinas boasts players who have played on national club teams.
But this volleyball showdown also will feature another team, South Junior High.
The Cougars have a less-than-sterling record (6-11) compared with tonight's opponents, but that doesn't necessarily mean the Cougars will be intimidated or outmatched.
"We play aggressively and with a lot of heart," Cougar Kelsey Broadwell said. "We feel we have a good chance to win."
The Cougars should feel confident: They already tangled with Southwest and Aquinas. With Aquinas, it was the season opener, and the team responded with a gutsy performance, but no wins resulted. The Cougars took on the Bulldogs in the finals of the freshman city quadrangular Sept. 11 at Free State High. The Cougars played the eventual champs tough, but again came up short.
The results may not be what the team had hoped, but for Cougar head coach Kathy Stuntz, the wins are ultimately not important.
"I tell them that if they give a total effort and play with heart, that's all that matters," Stuntz said. "They just need to play Cougar volleyball."
The Cougars have had enough to deal with this season besides tough competition.
Their school has been under re-construction since the school year began, and that has forced the Cougars to travel across town to Langston Hughes Elementary for practice and home volleyball games.
"They haven't complained at all," Stuntz said. "We lose 45 minutes of practice time each day, and they're just happy all the way there and all the way back."
Perhaps the positive attitude has come from this experience, but in any case the Cougars feel that they will compete. Especially since they came close to taking down both of these tough teams.
"Those games were really close," Broadwell said. "But it tells us that we can play with them, and we'll compete. We want to win."
The Southwest, South and Aquinas triangular starts at 3:45 at Southwest Junior High.
Copyright 2017 The Lawrence Journal-World. All rights reserved. This material may not be published, broadcast, rewritten or redistributed. We strive to uphold our values for every story published.