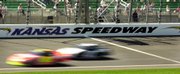 Just another race?
Sure, in theory. Sunday's LifeLock 400 at Kansas Speedway is 10 percent of this year's Chase for the Nextel Cup, like any other of 10 races in the championship battle.
"It doesn't matter what racetrack you're going to," Clint Bowyer said. "You're going to have to be on top of your game week in and week out."
Certainly, the bigger picture for Bowyer is the Chase, and he's only 18 points out of first place two races into it.
But Bowyer is from Emporia, Kan., and grew up racing at tracks like Lakeside Speedway, a three-eighths mile dirt oval just a few miles from the superspeedway. Bowyer watched wide-eyed as it sprung up out of what once was a housing development.
"To see all of that construction take place, the clearing for the speedway and the speedway being built (was) just amazing," Bowyer said.
Carl Edwards, who is from Columbia, Mo., feels it, too.
"I remember last year when we weren't running that well at Kansas and Clint was leading the race," he said. "I just thought, 'Man, that would be just so cool to be leading a Cup race at Kansas.'"
Edwards has a championship to worry about, too. Pending the outcome of his appeal of a 25-point penalty levied this week, Edwards is just 28 points behind leader Jeff Gordon in the Chase standings.
Edwards won last weekend at Dover, while a week earlier Bowyer opened the Chase with his first career Nextel Cup victory at New Hampshire.
Simply making the Chase ensured a place for these two drivers at the forefront of local interest for this week's race. Now each has a Chase victory and, oddly enough, each finished 12th in the race he did not win. So the attention - and the pressure - on them is ramped up even further.
"It's certainly going to be fun, and it is going to be challenging," Bowyer said. "There's going to be a lot of pressure, you know, all across the board. You want to run good in front of your hometown crowd. But come race time, you strap the helmet on and you can't worry about that. You have to do what it takes to win that Championship."
Winning, of course, would certainly help accomplish that. It also would be quite a rush to do it at a track that, in its relatively brief history, has become a crossroads for racers and their fans from all across the Midwest.
"I know that both of us are going to Kansas to win," Edwards said. "And the practical side of it is we both have been running well. We could go there and have a good time with our friends and family and the racing side of it, hopefully, will be good. ... I can say that the neatest victory for me in Nextel Cup would be to win at Kansas."
Bowyer said that after winning at New Hampshire two weeks ago he thought about how much fun it would be to go into the race at what he considers his home track leading the points race. But he had to fight hard and dodge all sorts of peril to get his 12th-place finish at Dover after starting 42nd there.
"It's just a very humbling sport," he said. "It can show you the highest of highs and drag you down and show you the lowest of lows. That's why we all do it."
Copyright 2018 The Lawrence Journal-World. All rights reserved. This material may not be published, broadcast, rewritten or redistributed. We strive to uphold our values for every story published.