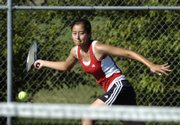 Blue Valley West's Alecia Kauss rifled in a first serve that was so fast during Lawrence High's girls tennis meet Wednesday afternoon, all Lawrence No. 1 singles player Xin Liu could do was flail at it.
Upon making contact with a forehand, Liu's racquet went flying in the air and Kauss won the point.
It was that kind of day for the Lions, who lost all 12 matches against Blue Valley West, Shawnee Mission Northwest and Shawnee Mission West at an LHS quadrangular.
As Liu left the court following the loss, she told LHS coach Steve Hudson, "That was interesting. Half the time, I thought I was going to drop my racquet."
Hudson knew the meet would be a struggle, calling the opponents three of the best in the state, and said the serve epitomized the day.
"When a 90 mph serve hits your racquet, and you're used to 50 mph serves, it can make you lose your grip," he said. "She found out the hard way that she needs to squeeze her racquet a little tighter. It's hard to simulate that in practice."
BV West won 32 games while LHS managed just two, with both coming from the No. 1 doubles tandem of Marcy Vickers and Elizabeth Simons. The closest any LHS player came to earning a victory was three separate 8-5 losses - two against SM Northwest and one against SM West.
The Lions' Jordan Payne and Lynn Chen had the misfortune of ending the day by facing SM West's best doubles team - a duo that finished second in Class 6A at state last year.
"It was good practice for returning serves," Payne said. "Unfortunately, not returning many."
"We got a taste of playing against girls from Kansas City who play year-round," Hudson said, "and that makes a big difference, and our girls can learn from that."
LHS will need to learn quickly. The Lions play host to the 12-team Sunflower League tournament today and have just one week before regionals begin.
"The lesson of the day is we've got to get better," Hudson said. "Sometimes it takes a thumping. It's a wake up call for the rest of your career. Not just the next match, but the rest of your career. Hopefully our girls are motivated for our next match."
Copyright 2018 The Lawrence Journal-World. All rights reserved. This material may not be published, broadcast, rewritten or redistributed. We strive to uphold our values for every story published.