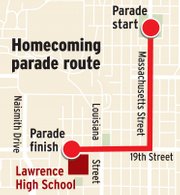 Lawrence High School is celebrating its homecoming this week, culminating with a parade Friday afternoon and crowning of the king and queen at the football game.
The parade will begin at 2:30 p.m., and participants will line up in the parking lot of the Douglas County Judicial and Law Enforcement Center, 111 E. 11th St., near South Park, said Jan Gentry, an LHS assistant principal.
A group of horses and riders and then the Marching Lions band will lead the parade of 35 entries as it proceeds south to Babcock Place, 1700 Mass., where the band will play for the residents.
The parade then will continue south and turn west onto 19th Street, ending in the high school parking lot.
Gentry advised drivers to avoid 19th Street, especially at the intersections with Tennessee and Kentucky streets, until parade traffic dissipates about 3 p.m.
The northbound lanes of Massachusetts Street and eastbound lanes of 19th Street will be open during the parade, but drivers may want to avoid the area because of extra parade traffic, said Sgt. Paul Fellers, a Lawrence police spokesman.
The crowning of the king and queen will occur during halftime of the 7:30 p.m. football game against Olathe East at Haskell Stadium. A semiformal homecoming dance will be at 8 p.m. Saturday in the high school cafeteria, 1901 La.
Copyright 2018 The Lawrence Journal-World. All rights reserved. This material may not be published, broadcast, rewritten or redistributed. We strive to uphold our values for every story published.