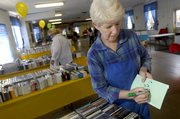 Kansas Audio-Reader Network hopes to sell thousands of items to music aficionados during its fifth annual "For Your Ears Only" fundraiser today.
This year's sale will feature more audio equipment and albums than in the past, said Sarah Hemme, assistant development director for Audio-Reader.
The benefit will be from 9 a.m. to 4 p.m. in Buildings 1 and 2 at the Douglas County 4-H Fairgrounds, 2120 Harper St.
Sale items include CDs, albums, turntables, stereo equipment, an autographed Louis Armstrong record set called "Hot Jazz Classics" and a high-end Harman Kardon Citation Five Tube Power Amplifier.
The benefit raises money for Audio-Reader, a Kansas University-based reading service for the blind and visually impaired.
Hemme said all of the electronic equipment has been tested by volunteer Dave Dunford, who also fixes and prices the equipment.
"We couldn't do it without him," Hemme said.
Janis Hutchison, a longtime volunteer and co-chair for the benefit, said she hopes to raise at least $14,000 to pay for Audio-Reader's operating costs. It typically raises about $10,000.
Copyright 2018 The Lawrence Journal-World. All rights reserved. This material may not be published, broadcast, rewritten or redistributed. We strive to uphold our values for every story published.