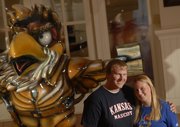 Big Jay and Baby Jay are about to get married. No, this is not a marketing promotion from the Kansas University athletic department.
Jessica Virtue and Chris Veit, a former Baby Jay and Big Jay, respectively, will walk down the aisle in October. The two met when Virtue was trying out for the mascot squad, of which Veit was already a part.
"Friday night, you start tryouts, and I remember seeing her and thinking, 'That's a really hot girl,'" said Veit, from Overland Park. "The second day of tryouts, I tried really hard to be nice to her."
The two quickly became friends and, over time, began to date. But Virtue, who is from Lawrence, said it was important that they never let their characters seem like they were dating.
"I think it would be really weird for the fans if we were a little extra friendly when we were in the suit," she said.
But that didn't mean that the two didn't perform together. Though several people act as mascots, Veit and Virtue regularly were able to be "in suit" - as the mascot community refers to it - at the same time.
Veit said it was almost natural that the two found themselves interested in dating.
"You get a core group of mascots who are hard-core," Veit said. "Even before Jessica was in the picture, the other mascot and I would spend whole weekends together."
Virtue said the mascots would perform, then perhaps do an appearance, and then spend evenings or spare time repairing the costumes. It just made sense that they'd become close.
Albert Veit, Chris Veit's dad, said he knew quickly there was something special between the two, perhaps even before his son knew Virtue's name.
"Chris met her in the spring and then all summer long didn't see her. I would hear him mention to his friends all summer 'this blonde chick,'" Albert Veit said. "I think at that point he didn't even know her name."
But Albert Veit, who lives in Overland Park, said he could see a twinkle in his son's eyes that hadn't been there before. Albert Veit and his wife both knew this was the one, probably long before Chris Veit did.
"It's very cool. We were very excited," Albert Veit said. "They have a lot of common interests. They both enjoy sporting events and things of that nature. I would say it would probably help their relationship."
Linda Gilstrap, Virtue's mother, was surprised when her daughter told her she wanted to become a mascot. When her daughter started dating a mascot, she was even more surprised. Little would she know how important the mascot squad would be to her daughter's life.
"They really have a built-in advantage, in that they have so many shared experiences," said Gilstrap, of Lawrence. "They're both cheering for the same team. They both have the same beliefs."
Gilstrap said Virtue and Veit have a unique relationship. They're lucky they found each other, she said.
"They're a very special couple," Gilstrap said.
Copyright 2018 The Lawrence Journal-World. All rights reserved. This material may not be published, broadcast, rewritten or redistributed. We strive to uphold our values for every story published.