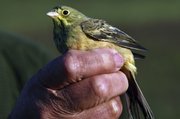 Paris — On the world's list of weird foods, ortolan - a bite-size songbird roasted and gulped down whole - can claim a place of distinction.
It's an illegal place, though, since the ortolan is a protected species and hunting it is banned in France. Now the government is out to get poachers of the coveted fowl.
Thought to represent the soul of France, ortolan was reportedly on the menu at late French President Francois Mitterrand's legendary "last supper" on New Year's Eve 1995, eight days before he died.
Though cancer had diminished his appetite, Mitterrand saved room for the piece de resistance, roasted ortolan, downing the 2-ounce bird, bones and all, according to a detailed account in Esquire magazine and Georges-Marc Benamou, a journalist who was a Mitterrand confidant. Some of the late president's associates, however, insist the bird-eating never took place.
According to tradition, the French shroud their head in a napkin to eat ortolan: Tucking into the bite-sized bird - which is killed by being drowned in Armagnac, plucked and roasted with its yellow skin and skeleton intact - can be a messy business.
It's also an illicit one.
A 1998 law banned hunting the ortolan, a copper-breasted bird that migrates from Africa to Europe, because of its endangered status. Ortolan hunters - who trap the birds alive and keep them in cages for several weeks to fatten them up - face fines of up to $12,460 and six months in prison, if caught and convicted.
But environmentalists complain the law is rarely enforced.
Earlier this month, the minister in charge of the environment, Nathalie Kosciusko-Morizet, pledged to step up inspections of the ortolan's habitat in southwestern France.
"The more you inspect, the more violations you find," Kosciusko-Morizet told The Associated Press. Four hunters were caught red-handed and two seizures were made over the past two weeks, she said.
Environmentalists blame the poaching on continued demand for roasted ortolan - which aficionados say is satisfyingly crunchy, with a subtle hazelnut taste.
No longer on restaurant menus in France because of the ban, ortolan is eaten at home or served secretly to special restaurant clients. A single bird can fetch between $138-$210 on the black market, said Allain Beaugrain Dubourg, head of the League for the Protection of Birds.
He said hunters kill as many as 30,000 ortolans each year in France alone, contributing to an estimated 30 percent decline in their numbers over the past decade. The League says there are an estimated 600,000 to 750,000 ortolan pairs in Europe.
Copyright 2017 The Associated Press. All rights reserved. This material may not be published, broadcast, rewritten or redistributed. We strive to uphold our values for every story published.