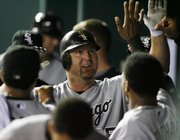 Kansas City, Mo. — Jose Contreras gave his daughters the birthday present they wanted.
Contreras threw a five-hitter, Jim Thome hit two home runs, and the Chicago White Sox defeated the Kansas City Royals, 7-0, on Wednesday night.
"I spoke with my two daughters earlier today, and tomorrow is my youngest daughter's birthday," Contreras said through an interpreter. "Then two days afterward, it is my oldest daughter's birthday. They asked me to throw a nine-inning shutout. I said, 'Don't you want another present? Can you ask for something else?"'
Contreras delivered on the requests by Naylan and Naylenis.
"Wherever A.J. (Pierzysnki) put the glove, I was able to hit it," Contreras said. "I was able to throw strike-one fastballs. Today everything was working. I felt strong from the get-go, coming out from the bullpen. It was, obviously, my best outing this year. Even though I've had a bad year, this is by far the best I've felt."
Contreras (10-16) held the Royals to one hit - a Billy Butler second inning single - in the first five innings. He did not allow a runner reach second until Jason LaRue's one-out double in the sixth. LaRue had two of the Royals hits.
Contreras, who is 4-0 with a 2.83 earned-run average in his past five games, walked one, while striking out six for his third career shutout. His previous was May 10 at Minnesota. The five hits matched a career low for a shutout.
Thome homered with one out in the third and leading off the fifth, bringing his career total to 502 and his season total to 30. Thome, who had 36 home runs in 141 games against the Royals, has hit 30 or more home runs in 11 of the past 12 years.
Copyright 2018 The Associated Press. All rights reserved. This material may not be published, broadcast, rewritten or redistributed. We strive to uphold our values for every story published.