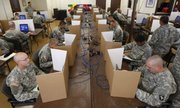 Fort Campbell, Ky. — Before they leave for Iraq, thousands of troops with the 101st Airborne Division line up at laptop computers to take a test: basic math, matching numbers and symbols, and identifying patterns. They press a button quickly to measure response time.
It's all part of a fledgling Army program that records how soldiers' brains work when healthy, giving doctors baseline data to help diagnose and treat the soldiers if they suffer a traumatic brain injury - the signature injury of the Iraq war.
"This allows the Army to be much more proactive," said Lt. Col. Mark McGrail, division surgeon for the 101st. "We don't want to wait until the soldier is getting out of the Army to say, 'But I've had these symptoms.'"
The mandatory brain-function tests are starting with the 101st at Fort Campbell and are expected to spread to other military bases in the next couple of months. Commanders at each base will decide whether to adopt the program.
The tests provide a standard, objective measurement for each soldier's reaction time, their short-term memory and other cognitive skills. That data would be used when the soldiers come home to identify mild brain trauma that can often go unnoticed and untreated.
One veterans group wants to ensure the Army doesn't use the results to deny treatment by claiming that soldiers' problems came from pre-existing conditions.
"We certainly think these tests should not be used to reduce the responsibility that the Army has to treat the soldiers who have served," said Jason Forrester, director of policy for Veterans for America.
Brain injuries caused by explosions have become some of the most common combat wounds suffered in Iraq. Thirty percent of soldiers taken to Walter Reed Army Medical Center since 2003 suffered traumatic brain injuries, according to the Defense and Veterans Brain Injury Center.
The brain-injury center, which has seven facilities around the country, has seen 2,669 patients between 2003 and 2007.
Copyright 2018 The Associated Press. All rights reserved. This material may not be published, broadcast, rewritten or redistributed. We strive to uphold our values for every story published.