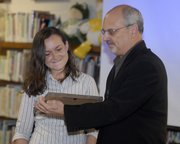 Kelley Young, a second-year Hillcrest School teacher, has a younger brother who has Down syndrome.
That drives the special-education teacher's mission daily in her Interrelated Resource Room, where she works with seven students and helps them to be included in general education at the school.
"Now I'm doing many things I've wanted to do for my entire life," Young told a roomful of her Hillcrest colleagues Tuesday afternoon.
But minutes before, during a staff meeting, Young had to put down the orange she snacked on once she realized that the teacher Superintendent Randy Weseman was praising was her.
Weseman led a prize patrol of district administrators into the school's library to present Young with the Lawrence Horizon Award to honor an outstanding elementary teacher.
She received a standing ovation from her fellow teachers.
"It's fair to say this is an award for the entire school," Weseman said.
Principal Tammy Becker said Young, who taught sixth grade at Hillcrest last year, builds strong relationships with her students and their families.
"Because of her dedication to her students, they respond to her with the best they have to give," Becker said.
Young moved to Kansas in 2004 from the Pacific Northwest. She is pursuing her master's degree in special education from Kansas University.
"There is no doubt in my mind that with the desire and skills that Kelley possesses that she is going to be an outstanding teacher for many years to come," said Gilbert Gonsalez, a Hillcrest fifth-grade teacher.
The Horizon Awards go to teachers entering their second year as instructors. Weseman awarded Free State High School social studies teacher Jason Springer with the secondary school teacher Horizon Award on Monday.
The district will nominate Springer and Young for the Kansas Horizon Award program, sponsored by the Kansas Department of Education.
CORRECTION: An earlier version of this story misstated the nature of the condition of Kelley Young's brother.
Copyright 2018 The Lawrence Journal-World. All rights reserved. This material may not be published, broadcast, rewritten or redistributed. We strive to uphold our values for every story published.