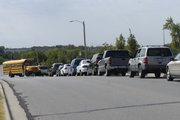 Evan Adkins, a Free State High School senior, usually lingers a little after school talking with friends. Otherwise he knows what awaits him on the neighboring streets.
"After school, it's pretty much chaos, and so I'm out here waiting," he said.
He said before he had spent 10 to 20 minutes waiting in line to leave school property. School buses pulled into the circle drive south of Free State at Thursday's dismissal, and parents lined both sides of Overland Drive in their vehicles to add to the congestion.
Laura Dahnert waited for her sophomore son. "It's a whole lot worse than I ever would have thought," she said.
Across town at Lawrence High School, 1901 La., senior Michael Bolden knows that parking spaces are a premium in central Lawrence near the Kansas University campus.
"We do need more parking," he said.
Weekdays are traditionally bustling with traffic in the morning and afternoon at both high schools with students, bus drivers and parents coming and going.
Traffic safety has long been an issue around LHS. The school district and city have plans for improvements near 19th and Louisiana streets and an added Louisiana Street bus turn-off lane to be built before next fall.
After a Sept. 7 noninjury chain-reaction accident in front of Free State involving several cars and a separate accident involving a school bus, parents say development around the school the last few years warrants an upgrade to the road situation there, too.
"We almost need another exit because it gets so congested," said Sarah Craft, a Free State senior.
Rick Gammill, director of special operations, safety and transportation, said the district deals with traffic issues around all of its schools at certain times of the day. The two high schools add the element of younger and less-experienced drivers. School leaders also rely on the two school resource officers to work with students on driving safety and parking, administrators said.
He said wet streets from a night rain may have played a role in the recent accidents. At this point, no major traffic plans are in the works for Free State, Gammill said, but district leaders are confident the city would be keeping a watchful eye on the area's development.
It's been six years since Renee Morel last had to navigate the streets around Free State. Her oldest daughter graduated from the school in 2001, and she now has a sophomore there.
Traffic is worse now, Morel said, because development near Free State has already made for slower and more crowded traffic at the beginning and end of the day. She said it's too difficult to make a left turn coming north on Folks Road onto Overland Drive because of the significant southbound traffic since the opening of Peterson Road.
It's also a task to come in from the west off Wakarusa Drive, she said.
"I just think it's unsafe for our most inexperienced drivers," Morel said.
Trying to add a third exit from the parking lot should be examined, although it would be difficult given the athletic fields west of the school, said Morel and Dahnert.
"I wonder how much just pent-up frustration there is just sitting in traffic," Morel said of the line of students at the end of the day.
The traffic patterns in the area were chief concerns during the discussion of building a Wal-Mart at Sixth Street and Wakarusa Drive. The proposal cleared the City Commission last month, and the Kansas Department of Transportation and city engineers in an analysis said the roads were built to handle the increase in traffic.
David Woosley, the city's traffic engineer, said the Overland Drive and Wakarusa Drive intersection would warrant a traffic signal "at some point as the area continues to develop."
Improvements will also be needed sometime at Folks Road and Overland Drive.
"But that point hasn't been reached yet, and I'm not sure exactly when it will," Woosley said.
Gammill said the district assesses traffic situations at its schools and also consults the city if necessary, like when it worked on the timing of traffic signals near Sixth Street and Folks Road.
With some improvements scheduled near LHS, parents say some kind of traffic upgrades around Free State are also warranted.
"I had no idea what it was like up here until I actually had to drive it," said Dahnert, the parent of a Free State sophomore.
Copyright 2018 The Lawrence Journal-World. All rights reserved. This material may not be published, broadcast, rewritten or redistributed. We strive to uphold our values for every story published.