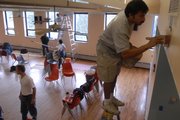 Senior Services of Douglas County's Vermont Street offices received a facelift this weekend.
Organizers say the new paint reflects bigger, exciting changes for the agency that aims to help area seniors remain independent in their homes and active in the community. The agency named a new executive director, John Glassman, earlier this year.
"Good things are really coming," said Debbie Walker, a board member and director of assisted living at Pioneer Ridge Retirement Community. "As we looked around, we thought this building depicts what's happening, so this building needed to show that vitality."
Walls - once lathered in minty and icy hues - were replaced with warmer tones of creams and browns. Organizers also want to modernize the space with some new furniture and artwork. They are hoping to receive donations to assist in sprucing up the environs.
"We want to pull people in," said Pattie Johnston, board member and senior outreach coordinator at Lawrence Public Library. "We want people to feel comfortable in the building."
Crews from the Olathe company D.A.D. Painting were busy painting the walls Saturday morning. Board members, community members and volunteers from Central Rotary also lent a hand.
Jessie Kwatamdia, the agency's leisure learning manager, said the agency wants to attract more people of all ages, economic levels and backgrounds.
"We want them all to walk in here and feel like this is their senior center," she said.
Senior Services will be host to a Lunch on the Lawn from 11:30 a.m. to 2 p.m. Sept. 27 at the center, 745 Vt. For information, contact 842-0543.
Copyright 2018 The Lawrence Journal-World. All rights reserved. This material may not be published, broadcast, rewritten or redistributed. We strive to uphold our values for every story published.