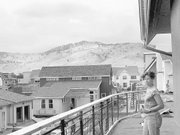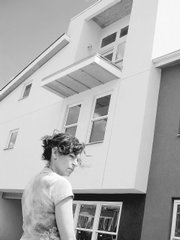 Boulder, Colo. — See if this sounds familiar:
A mid-sized town with a left-of-center reputation, not far from a big city, offering more amenities than your typical suburb thanks to a Big 12 university and all the sporting, cultural and intellectual offerings that go along with that.
At first glance, there are a lot of similarities between Lawrence and Boulder.
But it is Boulder - not Lawrence - that topped Fortune magazine's 2006 list of "Best Places to Retire in Style," one of the latest in a series of similar rankings the Colorado town has received in recent years.
And one big reason for the disparity is impossible to surmount.
"The mountains are nearby," said Sunni Eckhardt, echoing the sentiments of other Boulder retirees as she worked a puzzle in late July at the East Boulder Senior Center.
The result is that Boulder is becoming a haven for senior citizens; officials estimate that more than 30 percent of the city's population older than 60 is made up of "immigrants" - people who spent their careers elsewhere, but chose to retire here.
"I get frequent calls," said John Riggle, Boulder's director of senior services. "'I'm planning to retire in two years, and I'm thinking about moving to Boulder.'"
"I think the college contributes to a lot of that," said Arda Ives, 85, who retired to Boulder in 1990, following his son - a University of Colorado alumnus. "I've always been interested in world affairs. : The university seems to help maintain that interest."
Boulder, however, is doing more than relying on geological and educational blessings to attract retirees. The community has created a strategic plan to prepare for continued growth in its retirement population, and a public-private partnership is creating new housing designed to be affordable, stylish and let senior citizens live independently as long as possible.
"We're on the cutting edge in this type of thing," said Barbara Martig, president of Boulder's Senior Community Advisory Committee. "We'd really like to stay on that cutting edge."
Comprehensive plan
The strategic plan was adopted by Boulder County Senior Services in 2006, after a two-year process that involved interviewing more than 150 people about their needs, and gathering hundreds more comments at "town hall" meetings throughout the community.
The plan identified four areas Boulder must address to help its residents age well:
¢ Basic needs - ensuring that retirees have access to food, services and affordable housing.
¢ Promoting social engagement - giving retirees a chance to work, volunteer and participate in the life of the community.
¢ Promoting health - encouraging physical activity while ensuring access to mental health and respite care.
¢ Promoting independence - which includes beefing up public transportation options, and creating insurance and tax policies that allow older retirees to receive in-home care, if needed.
Finding money to further expand services, though, will be a challenge. Even without new programs, officials estimate the cost of providing senior services in Boulder will grow 84 percent by 2012.
"No community is likely to be able to increase its expenditures for aging services at such a rapid rate," the plan's writers acknowledge in the opening pages.
But Riggle and Martig said efforts were already in place to beef up transportation options for senior citizens - including creation of a system that provides volunteer escorts to retirees making errands outside the home - and to create a "one-stop" phone number for retirees to take advantage of existing services.
"The is so enormous to start," Martig said. "We realize we have to come up with something concrete."
Housing options
At the very north edge of Boulder, a new mixed-use neighborhood of businesses, homes and apartments is nearing completion. Called "Holiday Neighborhood," it includes a 16-unit senior co-housing development, "Silver Sage," which includes four condominium-type units that will be permanently affordable - in the range of $140,000.
The neighborhood is the result of a public-private partnership: The land was purchased by the city to prevent an unwanted development, then sold to the city's housing authority, which planned the neighborhood and sold the lots to local developers for building; Boulder requires that 20 percent of all new housing units be affordable.
Boulder authorities admit they weren't thinking of providing senior housing when they planned the neighborhood. But Wonderland Hills, a local company, saw a potential market in the city's growing population of retirees.
"We do hope to replicate (the senior housing) for other people along the Front Range," said Terri Furman, director of sales and marketing for the developer, talking about other communities in the Boulder area. "We've had a huge level of interest."
The co-housing development allows retirees to live independently, but close to other retirees - sharing meals and other resources.
"In some way, shape or form, they've thought: Wouldn't it be good to retire near your friends?" Furman said. "Particularly as you age, it's nice to have folks you know and that care about you around."
The project is nearing completion. Already, though, it has Boulder Housing Partners - the public housing authority - considering other senior living projects.
"We weren't" thinking about retirees when Holiday Neighborhood was planned, said Cindy Brown, the authority's co-director. "But we really like the idea of senior housing."
A challenge
Boulder's population of retirees continues to grow - people older than 60 will make up more than 15 percent of the population in 2012, officials estimate, up from about 10 percent in 2000. It's a number driven, in part, by all those "senior immigrants."
"It's a mixed blessing," Martig said. "It challenges us to : still provide services at the level we want to provide them."
And the same factors - the mountains, the university - that draw retirees also bring younger and wealthier families to town. That can rankle some longtime Boulder residents.
"It's a beautiful place," said Christel Gurule, a retired secretary. "I don't particularly like all the yuppies in town."
Copyright 2018 The Lawrence Journal-World. All rights reserved. This material may not be published, broadcast, rewritten or redistributed. We strive to uphold our values for every story published.