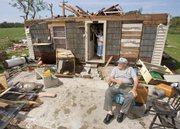 High Island, Texas — Call it the instant hurricane.
Humberto, which grew faster than any storm on record from tropical depression to full-scale hurricane landfall, surprised the Texas-Louisiana coast early Thursday with 85-mph winds and heavy rain that knocked out power to more than 100,000 and left at least one person dead.
Meteorologists were at a loss to explain the rapid, 16-hour genesis of the first hurricane to hit the U.S. since 2005.
"Before Humberto developed, you looked at the satellite imagery the day before, and there was virtually nothing there. This really spun up out of thin air, very, very quickly," said National Hurricane Center specialist James Franklin in Miami. "We've never had any tropical cyclone go from where Humberto was to where Humberto got."
Surprising as Humberto was, forecasters said it may have been a blessing that it didn't linger longer over warm waters of the Gulf of Mexico, which could have given it time to develop into more than a minimal hurricane.
Texas coastal residents prepared for a tropical storm rainmaker that would quickly flood the ground already saturated from the wettest summer in 60 years. Although forecasts called for up to a foot of rain, Humberto produced no more than half that and generated much more wind. By late afternoon, it had weakened to a tropical depression churning across the Deep South.
The only reported death was a man who died in southeast Texas when the carport at his home collapsed, police said.
Humberto made landfall less than 50 miles from where Hurricane Rita did in 2005, and areas of southwest Louisiana not fully recovered from Rita were bracing for more misery.
"I'm in a FEMA trailer (because of Rita) and I'm on oxygen," said Albertha Garrett, 70, who spent the night at a shelter in the Lake Charles Civic Center. "I had to come to the civic center just in case the lights would go out, because I'm alone and I'm handicapped."
About 118,000 customers were out of power in Texas and Louisiana at one point, utility officials said.
Along Port Arthur's refinery row, three plants were idled until power was restored. Some of the plants could be off-line for several days, even after power is restored, because they must undergo the full restart process.
Hurricane center forecasters first mentioned what would become Humberto on Saturday, when it was a disorganized system of showers and thunderstorms stretching from Cuba west over the southern Gulf of Mexico.
By 11 a.m. Wednesday, it had organized into a tropical depression with 35 mph winds and by 2 p.m. was a 45-mph tropical storm, centered just 70 miles off shore. At 1:15 a.m. Thursday, it was upgraded to an 80-mph, Category 1 hurricane, only 15 miles from the coast. Less than two hours later, at 3 a.m., its center roared ashore with 85-mph winds just east of High Island.
Experts can't draw conclusions on possible trends of faster-forming hurricanes based on just one storm. Franklin said part of the problem was Humberto was a relatively small-sized storm, making it harder for forecasters and computer models to analyze.
One possibility, he said, is that because Humberto was close to landfall, greater friction between air currents and the ground could have forced winds upward into the storm and lent to its intensification.
Far off in the open ocean, Tropical Storm Ingrid became the ninth named storm of the Atlantic hurricane season Thursday, the Hurricane Center said.
At 10 p.m. CDT, Ingrid's center was about 840 miles east of the Lesser Antilles. The storm was moving toward the west-northwest near 6 mph and was expected to continue at that pace for the next 24 hours.
Copyright 2018 The Associated Press. All rights reserved. This material may not be published, broadcast, rewritten or redistributed. We strive to uphold our values for every story published.