On the street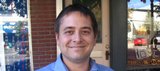 I'm going to have to say the chicken chimichangas from La Parrilla.
Jan Hornberger joined some friends and colleagues for a Wednesday evening tour through some of Lawrence's prominent eateries.
And she wasn't simply trying to tingle her tastebuds, either.
"We're looking for some ideas," said Hornberger, an organizer of an upcoming communitywide cooking contest, which will be aiming to identify culinary talent through a "Dining with the Stars" format. "We want to get some tips."
They picked up plenty of those and more during the annual Taste of Lawrence mixer, organized by the Lawrence Chamber of Commerce and conducted on the grounds of Meadowbrook Apartments, northeast of Bob Billings Parkway and Crestline Drive.
An estimated 1,700 people perused the offerings of chefs, cooks and others from 27 Lawrence-area eateries.
Among items on the menu:
l Roasted Bell Pepper Soup and Sweetleaf Salad Plate, from Ingredient.
l Shrimp Tacos, from La Parilla.
l Jumbo Lump Crab Cakes with Citrus Basil Aioli, from Ten Restaurant.
Add those to the canapes from New Hampshire St. Bistro, burgers from Paddy O'Quigley's and deluxe caramel apples from Riverfront Chocolates, and few of the folks on hand could even imagine leaving the gathering hungry.
The annual mixer is organized by the chamber to honor educators throughout the community, who are able to buy half-priced tickets thanks to business sponsors, said Cathy Lewis, the chamber's vice president for membership.
"This is a wonderful way for the business community to show its support for the educators and their contributions to the community," she said.
The event has been a tradition for more than 30 years, and only once has been forced inside - to Allen Fieldhouse more than 18 years ago - by inclement weather.
There was no danger of relocation Wednesday evening, as the worst elements anyone would face were rays from a bright sun warming up hand-held beverages.
Hornberger was among those enjoying a bite to eat, sampling fare under various tents while absorbing knowledge for the upcoming cooking event, a competition to be organized by K-State Research & Extension, likely in February.
The competition typically draws about 140 participants, many of them perhaps aspiring to one day be established enough to get their dishes on the menu for a future Taste of Lawrence.
"We're looking for the next 'Top Chef,' " Hornberger said.
Copyright 2018 The Lawrence Journal-World. All rights reserved. This material may not be published, broadcast, rewritten or redistributed. We strive to uphold our values for every story published.