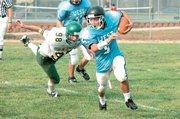 The West Junior High freshman football team scored a quick first-quarter touchdown in its home opener against Shawnee Mission South on Tuesday.
But after that things didn't go as planned.
Two huge Warhawk turnovers helped the Raiders erase the advantage and hand West its second loss, 16-6.
The promising Warhawk start took shape with a solid running game that kept the Raiders guessing. The tandem of Calloway Schmidt and Aaron Rosenstengle - who alternated at quarterback and running back - helped West (0-2) sustain its second series of the game.
"We ran the ball effectively," said West coach Mike Gillman. "It's what we wanted to do from the start, and it worked."
The initial success of the running game set up West's first score of the season, through the air. On second down at the Raider 20-yard line, Rosenstengle found Aaron Groene for the touchdown and a 6-0 lead.
"That was a pretty good way to start things," Gillman said.
The good feelings didn't last.
Late in the second quarter, an errant snap on a punt attempt gave the Raiders the ball at the West 16-yard line.
Four plays later, the Raiders were in the end zone. The visitors added a two-point conversion to go up, 8-6.
West started the third with the ball, but a fumble gave the Raiders the ball on the West 12-yard line.
The visitors wasted little time as Kirk Johnson - who was responsible for 14 of the Raiders' 16 points - raced in for the winning score.
Despite the loss, Gillman said he could see improvement.
"We played hard today," Gillman said. "It was a huge improvement from Thursday (a 27-0 loss at California Trail.) Now we need to have the same intensity next time."
West will play host to St. James Academy on Thursday.
Photo Gallery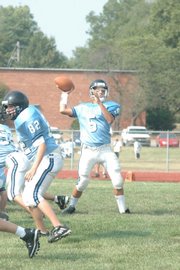 West vs. Shawnee Mission South
Copyright 2018 The Lawrence Journal-World. All rights reserved. This material may not be published, broadcast, rewritten or redistributed. We strive to uphold our values for every story published.