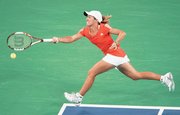 New York — When it comes to playing Justine Henin at Grand Slams this year, Serena Williams has been overmatched every time.
Hanging tough on long rallies, Henin defeated Williams, 7-6 (3), 6-1, Tuesday to reach the U.S. Open semifinals. They have met in the quarterfinals at three consecutive majors. Henin is 3-0.
"She made a lot of lucky shots," Williams said, a white baseball cap pulled low over her eyes, "and I made a lot of errors."
So while the formerly No. 1-ranked Williams is the active leader among women with eight Grand Slam titles and will stay on that number, current No. 1 Henin will have a chance to snare her seventh major.
"Playing Serena is really exciting for me," Henin said after compiling a 30-17 edge in winners. "I was really happy about the second set. I played much more aggressive."
Henin's next opponent could be another Williams: Serena's older sister, Venus, faces No. 3 Jelena Jankovic in the quarterfinals tonight. Henin is 1-7 against Venus Williams, 7-0 against Jankovic.
Henin was far better at the net, winning 11 of 14 points, while Williams was only 5-for-14.
Earlier Tuesday, Novak Djokovic reached the quarterfinals for the first time by beating No. 23 Juan Monaco, 7-5, 7-6 (2), 6-7 (6), 6-1.
Djokovic now faces No. 17 Carlos Moya. The 31-year-old Moya is the oldest man still in the tournament, and the player he beat 7-5, 6-2, 6-7 (5), 6-4 Tuesday, 19-year-old Ernests Gulbis of Latvia, was the youngest left.
After Williams and Henin were done, No. 15 David Ferrer stunned No. 2 Rafael Nadal, 6-7 (3), 6-4, 7-6 (4), 6-2, and will meet No. 20 Juan Ignacio Chela.
Copyright 2018 The Lawrence Journal-World. All rights reserved. This material may not be published, broadcast, rewritten or redistributed. We strive to uphold our values for every story published.