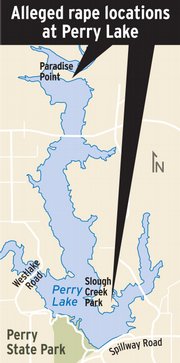 Jefferson County Sheriff's officers handled several calls over the Labor Day weekend at Perry Lake.
Two suspected rapes are being investigated, Undersheriff Jeff Herrig said. Few details were available, but both reportedly occurred on Saturday, one in Slough Creek Park and the other at Paradise Point, where the annual ABATE of Kansas motorcycle rally was held. No arrests have been made.
On Friday night officers arrested at man in Rock Creek Park for "huffing" paint. The man had wondered off into the woods and officers had trouble finding him until he walked out, Herrig said.
Officers also had to break up some fights at the lake, Herrig said. The participants were escorted out of the lake area.
As many as 20,000 people went to the lake over the weekend, according to the U.S. Army Corps of Engineers. There seemed to be more problems this holiday weekend than in past years, Herrig said.
"I think probably because of the nice weather people were out," he said. "It gets a little wild around the lake."
Copyright 2018 The Lawrence Journal-World. All rights reserved. This material may not be published, broadcast, rewritten or redistributed. We strive to uphold our values for every story published.