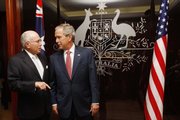 Sydney, Australia — President Bush vigorously defended his troop buildup in Iraq today, and got a boost when Australian Prime Minister John Howard said his country's forces there won't change for the foreseeable future.
"Our commitment to Iraq remains," pledged Howard, one of Bush's few remaining staunch war allies. "This is not the time for any proposals of a scaling down of Australian forces." The two men spoke at a news conference.
Bush, his voice rising before he had even been asked a question about the war, spoke forcefully about the 30,000 additional American troops he sent to Iraq this year. His decision raised troop levels in Iraq to about 160,000.
"If I didn't think we could succeed, I wouldn't have our troops there," he said.
Bush said it was important "that we hang in there with the Iraqis and help them."
Australia participated in the U.S.-led invasion of Iraq in 2003 and still has about 1,600 troops in and around the country, 550 of them in combat roles. Yet the war remains unpopular here, and Howard faces an aggressive challenge in elections expected to be called within three months.
Bush made a surprise, 8-hour stop in Iraq on the way to Australia and filled Howard in on what he learned. Like he does with U.S. lawmakers and coalition partners around the world, he urged that decisions about troops be based on conditions on the ground rather than internal politics.
"The security situation is changing," Bush said. "There's more work to be done. But reconciliation is taking place."
Bush returns to Washington this weekend ahead of an expected showdown with war opponents on Capitol Hill, kicked off next week with testimony from the top U.S. commander and diplomat in Iraq and their expected release of a progress report on the fighting.
Copyright 2018 The Associated Press. All rights reserved. This material may not be published, broadcast, rewritten or redistributed. We strive to uphold our values for every story published.