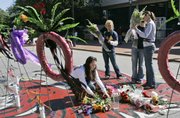 Columbia, S.C. — Fallon Sposato awoke to a blaring alarm and smoke seeping into the first-floor bedroom of the beach house where she and 12 friends had been partying just hours earlier. With her lungs and eyes burning, she ran with her boyfriend through the smoke-filled house, assuming her friends were already outside.
"And then nobody else was out yet," the 19-year-old University of South Carolina sophomore recalled during an interview with The Associated Press on Tuesday.
Seven students died in the blaze. Six others made it out of the house in Ocean Isle Beach, N.C., into the arms of neighbors and rescue workers.
"We were all hysterical. They were holding us back, trying to get our friends," said Sposato, a native of Orlando, Fla.
On Tuesday, officials at the University of South Carolina and in Ocean Isle Beach officially identified those killed in the fire: Cassidy Fae Pendley, 18; Lauren Astrid Kristiana Mahon, 18; Justin Michael Anderson, 19; Travis Lane Cale, 19; Allison Walden, 19; William Rhea, 18; and Emily Lauren Yelton, 19.
Of those who died, six attended the University of South Carolina and the other went to Clemson University.
Many of those staying at the house were members of the Sigma Alpha Epsilon fraternity and Delta Delta Delta sorority, and some had attended high school together in Greenville, S.C.
Sposato, a Delta Delta Delta member, said she and Walden, her roommate and sorority sister, joined the weekend getaway after scrapping a trip to Ohio. They picked the location closer to home, Sposato said, so the sorority members could be back on campus for initiation activities Sunday afternoon.
"Everybody just kind of needed a break from Columbia," Sposato said.
The group caravanned up to the resort town after classes Friday, listening to music and swimming in a canal behind the house, she said. On Saturday, they went out to lunch and watched the Georgia-Florida game before grilling food on a patio under the house, which was on stilts, and getting ready to watch South Carolina take on Tennessee.
"We just had a good time," Sposato said. Students were drinking alcohol at the house, but no illegal drugs were ever present, she said. "We were just hanging out and listening to music."
The group partied into the early morning on the back deck. Sposato said she was the first to go to bed, turning in at 4:30 a.m. after calling her father to say she had lost her camera.
Several hours later, Sposato and her boyfriend, whom she declined to identify, awoke to the alarms, flames and smoke. Called by neighbors who saw the fire, emergency personnel were pulling up when she got out of the house, Sposato said. Several hours later, Sposato would learn her roommate was among the dead.
Debbie Smith, mayor of the resort community, has said investigators believe the fire was probably accidental and started in the rear of the house, either on or near a deck facing a canal. That side of the home appeared to be the most heavily damaged. Most of the victims were found in the home's five bedrooms.
Sposato said the fire wasn't a case of careless underage drinking or youthful irresponsibility.
"These are the most responsible of all of my friends," she said. "This group was a solid group, and that's why it's just so unreal that this would happen."
Copyright 2018 The Associated Press. All rights reserved. This material may not be published, broadcast, rewritten or redistributed. We strive to uphold our values for every story published.