Photo Gallery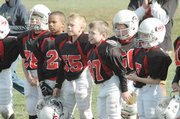 Hurricanes vs. Gorillas
The Gorillas took on the Hurricanes in the Toy Bowl D-division (second-and-third grade) title game Sunday at Youth Sports Inc. And after a scoreless first half, the Hurricanes got their running game on track for a 12-0 victory.
Both teams' defenses played well in the first half, with each side recording sacks. But after neither team could get anything across through two quarters, the Hurricanes' Jay Dineen broke the deadlock with a 55 yard touchdown run late in the third to give his team the lead.
The Hurricanes put the game away with less than five minutes to go as they ended a 40 yard drive with a 14 yard touchdown run from Avin Lane.
Copyright 2018 The Lawrence Journal-World. All rights reserved. This material may not be published, broadcast, rewritten or redistributed. We strive to uphold our values for every story published.