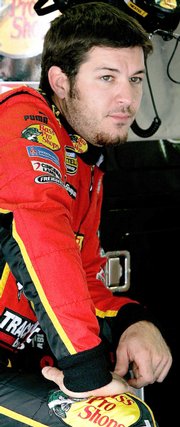 It would be easy for Martin Truex Jr. to think about what might have been or what could have been.
He prefers, however, to think about what is.
The reality is Truex is all but eliminated from any chance to win his first Nextel Cup Series championship, trailing leader Jeff Gordon by 447 points entering Sunday's Pep Boys Auto 500 at Atlanta Motor Speedway.
Only four races remain in the Chase for the Nextel Cup, and even though Truex has been unable to capitalize on his first opportunity to compete for the series title, the opportunity itself was a reward for a strong season.
"We've had some great race cars throughout the Chase. Just seems that everything that could go wrong has went wrong. It's been frustrating," Truex said.
"We'll go out there and race as hard as we can, and try to win a few of them and hopefully move up in the points toward the front."
Truex's greatest frustration during the Chase has been his bad timing and bad luck.
He has run solidly in each race and has had to worry more about misfortune than a bad handling car. He had an engine blow up at Talladega, Ala., and was caught in a five-car wreck at Kansas on the restart following a nearly two hour rain delay.
"It definitely stinks when you can't do anything about it. I think it would be worse if we weren't running well, if we were struggling," Truex said. "That wouldn't feel good for me and my team.
"We're real proud of the way we ran. We're proud of what we've been able to do throughout the season to get where we're at. But, yeah, it's kind of an empty spot there where we had those bad races and it just took us out of the Chase for the Championship."
Truex, 27, has made vast improvement over his rookie season of a year ago when he finished 19th in points. He earned his first series win this year at the June race at Dover, Del., and has already more than doubled his top-10 finishes of a year ago (11 this season, 5 last year).
His ascension into the upper echelon of Cup drivers could not come at a better time for Dale Earnhardt Inc., which will lose NASCAR's most popular driver, Dale Earnhardt Jr., at the end of the season.
Truex will instantly become the most veteran driver in the organization.
Copyright 2018 The Lawrence Journal-World. All rights reserved. This material may not be published, broadcast, rewritten or redistributed. We strive to uphold our values for every story published.