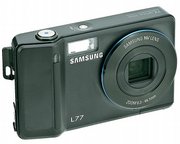 This season, you'll see small digital cameras not only in sober black and silver but also in hues such as wasabi green and sunset orange.
In a recent study, Consumer Reports found that even modestly priced models are offering more and more features, such as image stabilization, which can compensate for camera shake and minimize blurring and face detection, which aids in portrait shots. The touch-screen technology found on the iPhone and other smart phones is showing up on more digital cameras' LCD screens, and those screens are getting bigger.
Prices have dropped, too, especially for compacts and SLRs. In recent ratings, CR rated two compacts priced at or near $200 among its Best Buys. And you now can find respectable compacts with familiar brand names for less than $200.
According to CR, the best budget choices overall are the Canon PowerShot A550, with 7 megapixels, at $150 and the Canon PowerShot A460, with 5 megapixels, at $130. Several models proved competent though slower than most, including the Kodak EasyShare C653 (6 megapixels) at $140, the Nikon Coolpix L10 (5 megapixels) at $120, the Pentax Optio M30 (7 megapixels) at $190 and the Olympus FE-210 (7 megapixels) at $140.
The Polaroid T737 (7 megapixels), at $180, proved too slow for action-packed scenes. It has the biggest LCD of the group, at 3 inches, but its image quality is fair to middling. Next-shot delay is a full five seconds, longer than any rated model. Shutter lag also is on the slow side, at 1 1/2 seconds.
How to choose
Here's what you need to know to choose the camera that's right for you:
¢ Don't buy too big or too small. Almost all the cameras that CR rated took decent pictures. Your choice will depend a lot on whether you favor small size or extra photographic power and flexibility. Compact cameras, too big for a pocket but small enough to fit easily in a bag, remain the best choice for most people, especially if your budget is tight.
¢ Don't overspend on the specs. While some 5-megapixel models might linger in stores, most new cameras now offer at least 6 or 7 megapixels. A growing number of point-and-shoots, or cameras with built-in lenses, offer 10 and 12. Six megapixels provide all the resolution most people need. If you often crop or dramatically enlarge your images, get at least 7 megapixels.
¢ Weigh zoom trade-offs. Another feature to consider carefully is an optical zoom range that's greater than the 3x found on most cameras. (A zoom lens' range is the ratio of its highest telephoto focal length to its lower wise-angle length. For example, a zoom lens that's considered equivalent to a film camera's 35mm to 105mm lens has a range of 3x.) Greater zoom means greater weight and bulk, though a few pricey compacts manage to squeeze 10x into a package just a few ounces heavier than many basic compacts and slightly larger than many subcompacts.
¢ Forgo the extended warranty. CR has found digital cameras to be among the most reliable products in its subscriber surveys. About 5 percent of those purchased between 2004 and 2007 have ever been repaired or had a serious problem. Yet in its latest electronics buying survey, CR found that more than 70 percent of digital-camera buyers were pitched an extended warranty in stores.
Copyright 2018 The Lawrence Journal-World. All rights reserved. This material may not be published, broadcast, rewritten or redistributed. We strive to uphold our values for every story published.