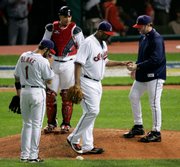 Cleveland — C.C. Sabathia was the second-best ace on the mound. Again.
Outpitched by Boston's Josh Beckett for the second time in the AL championship series, Sabathia can only hope for a chance to redeem himself in the World Series.
Sabathia had an opportunity to help Cleveland clinch the pennant at home, but let it slip away as the Indians lost to the Red Sox 7-1 Thursday night. The Tribe will return to unfriendly Fenway Park for Game 6 on Saturday night ahead 3-2 in the best-of-seven series.
"I can live with this better than I could my last start," Sabathia said. "I thought I made some good pitches. They have a tough lineup, but I felt like I was more aggressive than I was the last time and I went after them better than I did the last time."
Sabathia struggled to find the groove that made him a Cy Young Award candidate, giving up four runs and 10 hits in six-plus innings. He walked two, hit two batters and threw a wild pitch.
"He didn't bring his best stuff, and he was able to battle and give us six strong innings," catcher Victor Martinez said.
But as Cleveland's No. 1 starter, Sabathia was expected to dominate.
The left-hander looked shaky from the start, giving up a home run to No. 2 hitter Kevin Youkilis in the first. The inning would have been worse had Franklin Gutierrez not thrown out Manny Ramirez at home to end it.
Ramirez's single off the top of the center-field wall in the third made it 2-1 and was all the Red Sox needed with Beckett on the mound.
Sabathia put runners on in every inning except the sixth.
Indians manager Eric Wedge decided to stick with Sabathia - who was over 100 pitches - in the seventh, one of the few questionable moves he's made this postseason.
Wedge said he didn't want to go to setup man Rafael Betancourt for two innings after Sabathia had his best inning. Sabathia said he was feeling fine.
"He's thrown 120 pitches before," Wedge said. "It just didn't work out."
Against the top of the Red Sox lineup in the seventh, Sabathia gave up a double to Dustin Pedroia and a triple to Youkilis.
Center fielder Grady Sizemore charged toward the gap on Youkilis' drive to right-center. He made a dive, but the ball ticked off his glove. Sabathia's whole body appeared to slump under his crooked cap as Pedroia scored.
Gutierrez was closer to the ball and it appeared he could have had an easier play.
Sabathia said after the Indians went up 3-1 in the series Wednesday night that he planned to have fun in Game 5. He wanted to throw strikes and give his team a chance to win, unlike in Game 1 when he allowed eight runs in 41â3 innings.
He did give his teammates a shot, but the Indians again couldn't figure out Beckett, who struck out 11 in eight innings.
Sabathia's postseason ERA is 8.80 after a regular season in which the 27-year-old set career bests in wins (19), ERA (3.21) and strikeouts (209).
Copyright 2018 The Associated Press. All rights reserved. This material may not be published, broadcast, rewritten or redistributed. We strive to uphold our values for every story published.