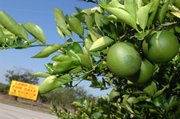 Fort Pierce, Fla. — There seem to be more tractors tearing up St. Lucie County's old citrus groves than tending them these days.
This county once had more orange and grapefruit trees than almost any other place in Florida, the nation's largest citrus producer. Now it's one of the fastest-growing counties in one of America's fastest-growing states, and that land is fast giving way to housing tracts.
The same is happening in varying degrees across Florida's citrus belt. It has been for years, but the slow slide suddenly has quickened. Farmers are replanting fewer trees than any point since the 1970s, and crop land is rapidly disappearing. Previously high land prices, diseases like citrus canker and greening and even the rising cost of trees are hurting farmers and driving orange juice prices to record levels, up more than a third since 2002.
"It's a very, very expensive process to get back into the business, even though you have land sitting there fallow," said Doug Bournique, head of the Indian River Citrus League. "It's not a dollar a tree like it was 20 years ago, just to pop them into the ground." It now can cost $10 a tree.
Florida lost 127,182 acres (17 percent of its total) in the 2006 crop census - the second worst drop in history behind only a January 1986 freeze. The net loss was higher than the previous eight years combined.
The U.S. Department of Agriculture does not tie specific reasons to any acre lost, but growers and other industry officials say the problems are plain. Canker and greening forced the destruction of tens of thousands of acres of trees in the past decade, and bad hurricane seasons in 2004 and 2005 raked groves. Some farmers sold to developers when land prices skyrocketed the past few years, though recent slowing in the housing market probably stymied that trend.
The fundamental problem is that it keeps costing more to grow. Canker and greening bacteria have forced farmers into tedious and expensive procedures to decontaminate workers and find infected trees.
Canker, which makes fruit unusable, is spread by the wind and contaminated clothes and equipment. The disease has made three waves in Florida, the most recent starting in 1995. It quickly infected not only groves, but also nurseries, leaving replacement trees in scarce supply. Previously, any tree within 1,900 feet of one tested positive for canker had to be destroyed. The state abandoned that program after hurricanes spread the disease so far it couldn't be contained.
Greening kills trees and is spread by an Asian insect accidentally brought to Florida. Neither disease harms humans.
To protect trees, citrus nurseries now grow in greenhouses, and many are relocating away from commercial citrus territory. The changes have sent tree prices soaring.
The vast majority of Florida oranges are pressed into juice, and Tropicana buys 40 percent of them. The company said it expected cost pressures to continue.
An average gallon of orange juice now costs $5.97, the most recent ACNielsen data shows, up 22 percent over the same time last year and 37 percent from five years ago.
That's bad news for consumers, but helps growers as the prices somewhat offset higher production costs.
Copyright 2018 The Associated Press. All rights reserved. This material may not be published, broadcast, rewritten or redistributed. We strive to uphold our values for every story published.