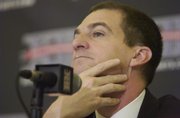 Photo Gallery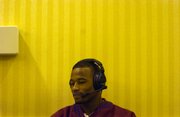 Big 12 Media Day 2007
Kansas City, Mo. — Coach of Texas A&M;'s Aggies, Mark Turgeon remains a Jayhawk at heart.
"That's probably the only downer of the deal," former Kansas University point guard Turgeon said Wednesday, referring to leaving Missouri Valley school Wichita State for Big 12 Conference member A&M;, a school that will play Turgeon's alma mater a minimum of once a year.
"When I told my son we were maybe going to Texas A&M;, he said, 'Well, Dad, we're going to have to play KU.' And I said, 'Yeah, well that's part of life - sometimes you have to do things you don't want to do.' So we'll do it. I just hope it's a really big game every year and means a lot and is on national TV and gets us a lot of good exposure."
Turgeon, who played for Larry Brown at KU and worked on staffs of both Brown and Roy Williams, shook the hands of a batch of media types who covered him as a Jayhawk as well as coach of the Shockers.
"It will be fun because it is a great environment, and I'll have a lot of friends there," Turgeon said of an A&M-KU; game at Allen Fieldhouse during the 2008-09 season; this year's battle is in College Station, Texas.
"I'll have a lot of friends there. It's the hardest place we'll play."
KU coach Bill Self was a volunteer assistant on Brown's staff during the 1986 Final Four season in which Turgeon played at KU.
"I rebounded for him," Self cracked, adding, "He was a very good player, a heady player. His coaching degree is impressive. I'm sure he is well prepared for this.
"The first time he plays KU in Allen : it'll be emotional," added Self, who has coached against his alma mater, Oklahoma State, in Gallagher-Iba Arena in Stillwater, Okla. "After that, it won't be at all. I love OSU, loved my time there. The first time you go there, people are so nice, then you realize, 'They can be nice to me another time. I have a job to do.'''
¢ You can go home again: KU junior Brandon Rush was familiar with the site of Media Day, the Marriott Country Club Plaza Hotel, 4445 Main Street, Kansas City, Mo.
"I grew up right down the street, 20 blocks. My mom still lives there. It's cool," Rush said of the neighborhood.
He estimated he was asked "50 times" at Media Day about his recovery from June 1 ACL surgery.
"It doesn't bother me at all. I know people care," Rush said.
Not much has changed.
"I've been shooting, dribbling, doing some of the shell drills," he said of work at the first few KU practices. "I'm ready to get back on the court, but I've got to listen to the doctors."
Self said the target date for Rush's return to games is still Dec. 1 with the possibility of a month on either side. Rush will undergo a final evaluation in the next week or so - one that should dictate the next step in his practice schedule.
¢ NBA talk: It should be assumed Rush will be heading to the NBA after his junior season.
"Nobody is thinking that he is (going to return to KU), including me," Self said "He would not be here if not for the injury, so why should we expect him to play two more years? If he does what he's capable of doing and, hopefully, he will, we all will benefit. We'll win a lot of games, and he'll have a chance to help himself. Nobody is thinking he'll be back."
Rush isn't about to jinx himself by discussing the NBA before next April.
"I can't put that in my mind because of what happened last time," he said of planning on turning pro last spring, then immediately getting injured. "I take it month by month."
¢ Danny knows best: K-State's Bill Walker said he'd be willing to talk to KU's Rush about his own ACL surgery if asked. Rush politely indicated he doesn't need the input.
"I've got Danny. Danny had three of 'em. That's my advice," Rush said of KU assistant Danny Manning.
¢ T-shirt talk: A KU student reporter asked Self about the student body's plan not to wear the controversial "Muck Fizzou" shirts to KU games this season. ESPN won't focus its cameras on KU's student section because of the tasteless shirts.
"My personal opinion is I wish we didn't wear them," Self said. "I don't think we need to wear them. I think we can come up with something definitely more clever than that. Being a school of higher education, we can come up with something. Our students do a great job. At the same time, you are asking me about something I've never thought about before today."
¢ Reed rules: Self gushed about KU freshman guard Tyrel Reed: "I think Tyrel will be in our rotation. I do. Tyrel is wired differently from most freshmen. His idea of having a good time is having somebody rebound for him. He is way beyond his years from an approach standpoint - businesslike, tough, stubborn, hungry."
He also expects more heralded freshman big man Cole Aldrich to be in the rotation and effective by the start of Big 12 play.
"Right now, that game is too fast for him, which is to be expected," Self said. "He doesn't know yet how to play to his size and understand the pace, speed or strength of the game yet. He's worked hard and will be a good player."
¢ Self on early practices: "Three borderline real good days and one borderline pitiful day," he said. "There seems to be more a focus from my vantage point than what I've seen the last couple of years."
The Jayhawks have practiced hard. "Yesterday guys were on the verge of not being able to finish because of cramping," he said.
¢ Recruiting: The mother of Willie Warren, a 6-3 senior from North Crowley (Texas) High, tells Rivals.com her son will wait until the spring to choose a school. He's considering KU, Oklahoma, UConn, Cincinnati, Texas and others. : Lance Stephenson, a 6-5 junior from Brooklyn, N.Y., tells the West Paterson (N.J.) Herald News he will make an unofficial visit to KU this season. He's also considering Indiana, Seton Hall, USC, North Carolina and Georgetown. : The Morris twins, Marcus and Markieff, told Rivals.com on Wednesday they would visit Villanova a week from Friday. They are expected to choose either KU or Villanova since no St. John's trip is in the works.
¢ Labor day: Baylor coach Scott Drew's wife, Kelly, went into labor Wednesday and was taken to a Waco, Texas, hospital. He and his players left Media Day a few minutes early so the coach could return home. The Drews, who have a daughter, Mackenzie, were expecting their first son.
¢ Self on grid greatness: KU coach Self gushed about KU football and coach Mark Mangino on Wednesday.
"I think it's great what they are doing. Mark, his players and staff have done a great job. Hopefully we can continue to play well," he said.
Mangino returned the compliment after practice Wednesday.
"Coach Self, he's into football," Mangino said. "He's been very supportive. He a good colleague to work with."
Copyright 2018 The Lawrence Journal-World. All rights reserved. This material may not be published, broadcast, rewritten or redistributed. We strive to uphold our values for every story published.