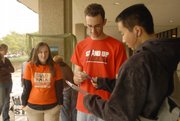 Even endless rain couldn't stop a group of Kansas University students from spending 24 hours on Wescoe Beach in an effort to raise awareness of global poverty.
But it did move them to a more protected spot, slightly off the beach. The Stand Up campaign is part of a weeklong effort to fight poverty. Other events still to take place include a discussion at Nunemaker Center today and the GuluWalk on Friday night.
"I admire what you're doing," KU Chancellor Robert Hemenway told the assembled students when he stopped by to affix his name to the pledge.
Hemenway has been a proponent of the U.N.'s Millennium Development Goals for some time, and among those is ending global poverty.
"To me, that's the critical thing. I think the Millennium Development Goals hold great promise for the entire globe," he said.
In addition to raising awareness, the students, many of whom are in a class on the Millennium Development Goals with the chancellor, are also trying to raise money for the Nothing But Nets campaign. That campaign helps provide insecticide-treated mosquito nets to children in Africa to help prevent the spread of malaria.
Bergman said mosquito nets were a simple yet effective way to improve the lives of those who live in poverty.
"We feel if you're sick and incapacitated, you can go out and change your life for the better," said Jessica Bergman, president of KU's Millennium Development Goals student group. "All the proceeds from the event go to our cause."
The students are also working with Abe & Jake's Landing so that cover charges paid go to the Nothing But Nets campaign.
Hemenway said he was extremely supporting of any student group that is working to promote the Millennium Development Goals.
"Some of these students I get to meet every week," Hemenway said. "They're fantastic students. It sort of makes you enthusiastic and gives you energy just to be around students who care about what's happening in the world."
As of 5 p.m., the students had collected about 725 signatures. The campaign, which was slated to go on overnight, ends at 9 a.m. today.
Copyright 2018 The Lawrence Journal-World. All rights reserved. This material may not be published, broadcast, rewritten or redistributed. We strive to uphold our values for every story published.