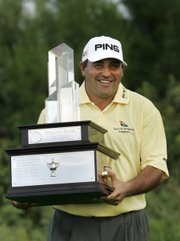 Tucker's Town, Bermuda — U.S. Open champion Angel Cabrera overcame an atrocious start with a spectacular finish Wednesday to win the PGA Grand Slam of Golf, outlasting Padraig Harrington in a playoff.
Cabrera recovered from a triple bogey on the opening hole that put him five shots behind with a birdie-eagle finish to close with a 2-under 68 and get into a playoff with the British Open champion at Mid-Ocean Club.
He finally beat Harrington on the third extra hole with another booming tee shot and a 4-iron into 18 feet on the par-5 18th. Cabrera took two putts for birdie, which was all he needed when Harrington hit into a deep bunker off the tee and still had four feet for par when the Argentine tapped in.
It was the first time Harrington, who closed with a 69, had trailed all afternoon.
Cabrera finished at 4-under 136, earning $600,000 from the tournament restricted to major champions.
Jim Furyk, the replacement for PGA champion Tiger Woods, took a triple bogey on the par-5 11th hole that doomed his chances, but birdies on four of the last five holes gave him a 67 to finish third at 138. Masters champion Zach Johnson was seven shots behind with 10 holes to play and still gave himself a chance until a bogey on the last hole for a 68 to finish another shot back.
It was only the third playoff in the 25-year history of the Grand Slam, and the first since Woods beat Vijay Singh in 2000 at Poipu Bay. The tournament left Hawaii after 13 years for another island in another ocean, and the 7,000 fans from this country in the Atlantic were treated to a finish they never expected.
Harrington appeared to have the tournament in hand, especially when Cabrera chopped up the short 16th hole for bogey to fall two shots behind. Cabrera holed a 10-foot birdie on the 17th, then hit a 4-iron that caught the slope on the 18th and stopped four feet away for his second eagle of the round, this one forcing a playoff when Harrington two-putted for birdie.
Copyright 2018 The Associated Press. All rights reserved. This material may not be published, broadcast, rewritten or redistributed. We strive to uphold our values for every story published.