Photo Gallery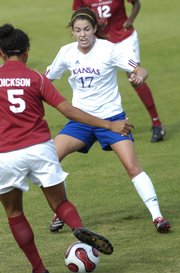 KU soccer vs. Oklahoma
Kansas University's soccer squad still has five Big 12 Conference games remaining, but if the first five league games are any indication, the Jayhawks could be in jeopardy of missing the Big 12 tournament.
With a 2-1 loss to Oklahoma at Jayhawk Soccer Complex on Sunday, the Jayhawks are now tied with the Sooners for the eighth and final spot in the tournament.
"The game should have been over at halftime," Kansas coach Mark Francis said. "We had so many opportunities in the first half that we didn't finish, and the two goals we gave up were absolutely unacceptable."
At the halfway mark of conference play, KU (3-8-3 overall, 1-1-2 Big 12) is in danger of missing the conference tournament for the first time since 1999 - and all five of KU's remaining opponents are ranked in the top 15 in the Central Regional by soccerbuzz.com.
"I think that's motivation in itself," Jessica Bush said. "You can't really say too much else. Getting into the Big 12 Tournament is exciting. It's a good experience, and I think that's what we need to aim for right now."
It looked like KU was on its way to a third victory in four games with Bush's first goal of the season in the 36th minute. At that point, Kansas dominated, with a 13-2 advantage in shots.
Then Oklahoma's starting goalkeeper went down because of an injury four minutes after Kansas took the lead.
The Jayhawks had no success against the Sooners' back-up, however, as OU's Jennifer Nichols finished with five saves in nearly 50 minutes.
"To be honest, their back-up goalie is a pretty good goalie," Bush said. "They had her last year, and we came out 1-0 on them. But their back-up keeper did a great job. She saved some great shots."
After getting just one shot on goal in the first half, Oklahoma stepped up its attack on Kansas goalkeeper Colleen Quinn and was able to score on two of its four shots on goal in the final 45 minutes.
Both of the Sooners' goals came on headers by Allyson Kucera off free kicks deep in the Jayhawks' end of the pitch.
"It's two set pieces that we don't mark up, and they beat us to the ball," Francis said. "It's not acceptable. It was abysmal marking by us in the box. We've gone over that I don't know how many times, and it's just not acceptable for our team to give up goals like that."
KU had a chance to tie it in the final two minutes, but a shot by Bush was tipped by Nichols and bounced off the crossbar.
Copyright 2018 The Lawrence Journal-World. All rights reserved. This material may not be published, broadcast, rewritten or redistributed. We strive to uphold our values for every story published.