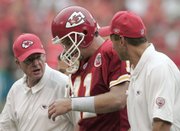 Kansas City, Mo. — The Kansas City Chiefs said Monday they won't know quarterback Damon Huard's status for this week's game against Cincinnati until the results of medical tests are known.
If Huard is out, backup Brodie Croyle would get the start.
"I talked with (coach Herm Edwards) this morning, and he reaffirmed what he told everybody after the game, that he just doesn't know if Damon will be able to start or not," said Pete Moris, a team spokesman. "We can't rule him out until we get some information on his shoulder."
Huard sustained what the Chiefs called a shoulder contusion late in the fourth quarter Sunday of Kansas City's 17-7 loss to Jacksonville. Huard was scheduled for an MRI Monday. He told reporters in the locker room he was unsure whether he would be ready Sunday.
Croyle came in for Huard and directed a last-minute scoring drive, completing a 13-yard touchdown pass on the final play from scrimmage that enabled the Chiefs to avoid their first shutout at home since 1994. The Chiefs managed only 10 yards rushing, the lowest total so far this year in the NFL.
Croyle, 24, is 10 years Huard's junior and appeared ready to take over as starter until he performed poorly in the preseason.
Croyle, a second-year pro, said he was ready to start if called upon.
"I feel the same as I felt going into training camp, after training camp," Croyle said. "I always felt whenever my time was called, we're going to run with it. If that's this week, great. If not, then whenever it comes, we'll just go then."
Copyright 2018 The Associated Press. All rights reserved. This material may not be published, broadcast, rewritten or redistributed. We strive to uphold our values for every story published.