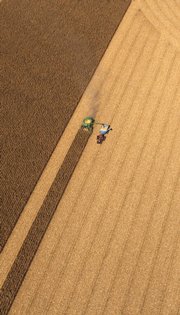 Driving through row after row of field corn this fall, Jimmy Gabriel finds himself cracking a bit of a smile.
And it's not just because he's getting 150 to 160 bushels an acre on this particular run, or because soydiesel fuel is burning efficiently in his combine, or because the family farm's 2,500 acres of soybeans are ripening up just fine, thank you.
Gabriel's smile comes from all that - and more. Much more.
"Everything sounds good," he said last week, harvesting corn west of Eudora. "We're getting good bushels and a good price. It's turning out real well."
If only it were so simple.
While area farmers often are bringing in above-average yields on a larger-than-normal corn crop that's commanding higher-than-average prices, a few complicating factors remain.
The biggest: Rising costs for fertilizer, fuel and seemingly everything else required to get plants growing in the fields and grain out to the elevator.
"That's on the flip side," said Verlyn Gilges, of Baldwin Feed Co. "The input costs are up tremendously. It pretty well offsets the increase in price."
Bill Wood, agriculture agent for K-State Research & Extension in Douglas County, said that even with rising costs, he would expect the area's farm economy to be up somewhat this year, driven by revenues from the area's two biggest crops: corn and soybeans.
On Monday, Baldwin Feed was paying $3.08 a bushel for corn - down from $3.50 recently, but still up about 22 percent from $2.65 a year earlier. Baldwin Feed's price for beans was at $8.56, down a bit from $8.80 last week but still up 61 percent from $5.31 a year ago.
Wood is hoping markets for alternative fuels and other forces continue to help boost grain prices in the long term, so farmers can grow - or at least preserve - their profit margins.
"Just like we do, they need a raise every year just to keep up with the cost of living," Wood said.
Gabriel knows that all too well.
Even as he cut his above-average corn crop, he knows his beans won't be as bountiful; an untimely lack of rain in late August and into September kept some berries from filling out, reducing his anticipated yields.
While farming variables remain from harvest to harvest - grain prices, input costs, rain totals and temperature extremes - at least one vital component remains stubbornly constant.
"Our margin gets closer," Gabriel said. "Even though we're bringing more money in, there's more money going out."
Copyright 2018 The Lawrence Journal-World. All rights reserved. This material may not be published, broadcast, rewritten or redistributed. We strive to uphold our values for every story published.