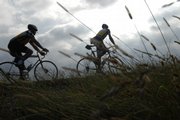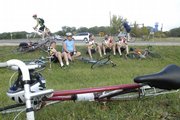 A throng of spandex-clad cyclists caught its breath Sunday afternoon at South Park after returning from 80-mile or 40-mile rides, which tested the riders' endurance, thanks to heavy humidity and winds.
In all, nearly 700 riders from all over the country descended upon Lawrence for the 38th annual Octoginta, organized by the Lawrence Bicycle Club.
The summer-like temperatures made the Douglas County tour more difficult, but that didn't deter cyclists who came from as far as Utah and Minnesota for the event, which gained national recognition after a mention in "Bicycling Magazine."
Chris Sprecker, president of the Lawrence Bicycling Club, said it was atypical to have so many people from out of state participate in the event.
"I'd like to say it's because we have a good ride," Sprecker said. "I hope that's what it is."
For many riders, like Lawrence resident Keith McMahon, cycling is a passion. "I've been riding for 35 years, so it's my favorite form of exercise. It's a regular part of my life," said McMahon, who rode 80 miles before 1 p.m. McMahon said he has ridden in at least 10 Octogintas.
Long rides like Octoginta are also motivation to keep fit, said Stacy White, of Liberty, Mo. She also participated last year.
"I like to stay active, and it's a good way to stay in shape," she said. "I think rides like this make you stay fit."
The rural routes also offered scenic views of the area as fall starts to turn leaves red and orange. The warm temperatures couldn't mask the presence of autumn in the air.
"Today you can really smell the leaves and smell fall," said White, who pedaled 40 miles. "It was really nice."
It was the Lawrence Bicycle Club's final major ride of the year, Sprecker said.
Maury Brown, of Kansas City, Mo., wanted to have one last fling before organized rides go into hibernation for the winter.
"It's one of the last rides this big and this long of the year," Brown said. Though he rides his bike year-round, he said, most organized rides take place in the spring and summer.
Riders praised the Lawrence Bicycle Club for its organization and hospitality.
Stop-and-go, or SAG, sites were placed at 20-mile intervals and provided riders with water and bicycle repair tools.
"The support on the ride is phenomenal," White said. "I think the Lawrence Bicycle Club does a great job."
Gail Cox, a SAG volunteer, said the coordination between organizers and volunteers is an important aspect of long rides.
While many Octoginta veterans populated the ride, rookies also joined the pack. Bruce Sergeant, Lecompton, said he had known about the ride for years and recently regained an interest in cycling.
"I'll probably do it again," he said. "If I can stay in shape."
Copyright 2018 The Lawrence Journal-World. All rights reserved. This material may not be published, broadcast, rewritten or redistributed. We strive to uphold our values for every story published.