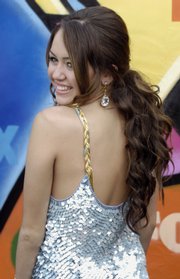 Kansas City, Mo. — Missouri Attorney General Jay Nixon on Thursday filed suit against three out-of-state ticket-sales Web sites for allegedly selling tickets for a "Hannah Montana" concert in Kansas City far above their face value.
Nixon's office filed lawsuits in Jackson County Circuit Court against TNOW Entertainment Group Inc. and GoTickets Inc., both of Springfield, Ill., and Ticket Solutions Inc. of Overland Park, Kan. Nixon claims the ticket brokers violated state and local consumer protection laws by selling tickets with face values of $26 to $56 for hundreds or thousands of dollars.
Tickets for the Dec. 3 performance by 14-year-old Miley Cyrus, star of the Disney Channel show, sold out almost immediately, frustrating parents who then found resellers offering dozens of the tickets.
"It's a blatant rip-off of the consumer," Nixon said, adding that his office received more than 30 complaints about the sales.
He said he had negotiated with Ticketmaster to provide an additional 1,000 tickets for the show in Kansas City, as well as another 1,000 tickets for the sold-out Oct. 18 show in
St. Louis. People can buy no more than two tickets and must provide photo identification and the credit card used to buy the tickets on the day of the show in an effort to dissuade resellers.
The St. Louis tickets are scheduled to go on sale Oct. 13 and the Kansas City tickets on Oct. 20.
"Our agreement is important because it guarantees equal opportunity for all fans to purchase tickets for an event with extremely high demand but at the face value of those tickets," Nixon said. "These ticket brokers are rendered unable to hijack the sale, and real fans get the tickets for prices set by the artist."
The three companies did not immediately return phone calls or e-mails seeking comment.
In his suits, Nixon claims all three companies violated Kansas City's ordinance against selling tickets for more than their face value. He says a member of his staff in Kansas City went to the three companies' Web sites and bought tickets for $225 to $253, excluding other costs and fees.
He said not telling consumers about the Kansas City ordinance was a deceptive practice, violating the state's merchandising code.
Nixon also alleges that two of the brokers violated state law by offering to sell tickets they didn't actually have, a common occurrence because brokers match people looking for tickets with those selling tickets.
In the TNOW Entertainment case, Nixon's office said it was notified by e-mail a few hours after the purchase that the ticket it had bought was no longer available but that the company was seeking a comparable one. The staff member's credit card was still charged, however, according to Nixon's office.
Venues for the 54-date "Best of Both Worlds" tour have sold out in minutes across the country and the tickets are fetching resale values far above those of established acts, such as The Police, Beyonce or Justin Timberlake.
Law enforcement in other states have begun investigating ticket brokers, concerned some may have used software or other technical tools to grab as many tickets as possible before the general public had a chance.
Nixon's action comes as Missouri's law that outlaws such practices - one of the few in the nation - is scheduled to be repealed Nov. 28. He said he thought it still was important to highlight the actions of brokers he claimed were hoarding tickets to raise prices.
"We want to send a clear message that we think that method is a problem," he said. "We are frustrated that this kind of consumer protection is being wiped out by the folks in Jeff City."
Copyright 2018 The Associated Press. All rights reserved. This material may not be published, broadcast, rewritten or redistributed. We strive to uphold our values for every story published.