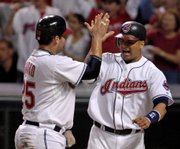 Cleveland — At times, it looked like 1995 again. Or 1997. Or 1954. Or 1948.
Back in the playoffs after a six-year absence, the Cleveland Indians came out swinging like Octobers past.
C.C. Sabathia recovered after giving up a homer on his fifth pitch, Kenny Lofton drove in four runs and Cleveland homered four times to stun the New York Yankees, 12-3, in their AL playoff opener Thursday night.
On an unusually warm night, the AL Central champions looked as though they just might be the team to beat as they chase their first World Series title in 59 years.
"They just were hitting everything," Yankees slugger Alex Rodriguez said. "Even their outs were hard."
A-Rod will have to wait at least another day to repair his tarnished postseason image. Sabathia and three Cleveland relievers silenced his powerful bat.
On Friday, the Yankees turn to Andy Pettitte, who is 14-9 in postseason play. Fausto Carmona, Cleveland's other 19-game winner, will oppose him.
"Let's just get over it and lick our wounds and then we'll figure it out," New York manager Joe Torre said.
The Indians' playoff inexperience was never a factor.
Cleveland's kids were all right.
"They just went out there and played the game," said Lofton, a postseason veteran. "You don't have to have a whole lot of experience to understand that the game hasn't changed. That's what I've been talking to the guys about: Go out there and play baseball."
Playoff newcomer Victor Martinez hit a two-run homer and rookie Asdrubal Cabrera had a solo shot off ineffective starter Chien-Ming Wang. Travis Hafner and Ryan Garko homered later, and the Indians knocked the Bronx Bombers flat.
The 40-year-old Lofton raced around the bases they way he did in two previous stints with Cleveland. Casey Blake added two RBIs for the Indians, energized by a towel-waving crowd eager for more.
A few Cleveland fans even turned on Cavaliers superstar LeBron James, a devoted New York fan who boldly came to Jacobs Field wearing a Yankees cap. Early on, fans sitting near James behind home plate chanted "Take off the cap," and by the sixth inning, he did.
When Hafner's homer off Ross Ohlendorf gave the Indians a 10-3 lead, James turned to his entourage and ordered an exit.
The Yankees, 6-0 against the Indians during the regular season, went nearly as fast. Down 4-3 in the fifth, they managed only a meaningless, two-out single in the ninth after Cleveland broke away.
It was the first time New York lost by more than eight runs in the postseason since an 11-1 first-round drubbing by Oakland in 2000.
"We needed to stop them," said Johnny Damon, who hit a disputed homer leading off the game. "We couldn't stop their offense. Everything they were hitting went out of the park. You definitely don't want to see that happen in the first game."
Indians manager Eric Wedge, another playoff first-timer, was prepared to ride Sabathia as long as needed. If that meant 120 or 130 pitches, Wedge was willing to let his left-hander push his limit.
Wedge never could have imagined that would come after five innings.
Not only did Sabathia, who entered 1-7 with a 7.13 ERA in his career against New York, have to deal with New York's awesome lineup, but plate umpire Bruce Froemming's strike zone was paper thin for the left-hander, who battled through 114 pitches, allowing three runs and four hits in five innings.
"He had to work about as hard as he's ever had to work," Wedge said.
Sabathia walked six (his total for September), allowed two homers - both to lefties - and had one of his worst outings all season.
"He bent, but he didn't break," Torre said.
The Yankees were facing Sabathia for the first time in three years, and unless they get their offense untracked in the next few days, it might be many more months before they see him again.
New York has lost four straight playoff games and 11 of 14 overall dating to their 2004 AL championship series collapse against Boston, a skid rarely seen for a decorated franchise that hasn't added to its collection of 26 World Series titles since 2000.
Rodriguez's hopes of following up a certain MVP season with a glittering postseason is on hold. He went 0-for-2 and walked twice, once intentionally in the fifth when Sabathia wriggled out of a serious jam.
A-Rod dropped to 4-for-43 (.093) with no RBIs in his last 13 postseason games.
The Yankees' best chance was in the fifth. Trailing 4-3, they put runners at second and third with one out against Sabathia. With first base open, he intentionally walked Rodriguez to face Jorge Posada.
Posada got ahead 3-0 in the count, then fouled off a pitch. Sabathia fought back for a strikeout.
Then, he got behind 2-0 to Hideki Matsui before getting the Yankees' DH to pop to shortstop, ending New York's last rally.
"Posada helped me out a little bit," Sabathia said, "and I was able to get out of it. These guys swung the bats and picked me up huge."
The Indians put it away with five runs in their half of the fifth, the big blows coming on Martinez's two-run homer off Wang, a 19-game winner during the regular season, and Blake's two-run double, a shot that sent the crowd of 44,608 into a frenzy.
The moment sent Lofton, traded back in July for his third stint with Cleveland, back to '95, when he was the speedy leadoff catalyst on a team with Albert Belle, Jim Thome and Manny Ramirez that made it to the Series.
"I was trying to tell these guys how exciting it was in '95," Lofton said.
Copyright 2018 The Associated Press. All rights reserved. This material may not be published, broadcast, rewritten or redistributed. We strive to uphold our values for every story published.