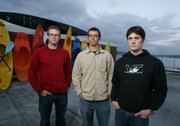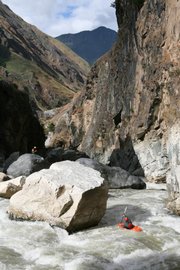 Looking back on it, putting together the video that won the first Vacation To Hell was easy.
The hard part was claiming the prize, making the first kayak descent of the Rio Huallaga in Peru, the last major tributary of the Amazon not yet fully navigated.
With $12,000 worth of plane tickets, kayaks, camping gear, food and a satellite phone from the sponsors, a team of four Northwest kayakers made it farther down the Rio Huallaga than anyone before them, but decided to turn back when the river disappeared like Alice down the rabbit hole under a boulder bridging a sheer rocky gorge.
But no one is calling the trip a failure. The team of kayakers, who called themselves The Range Life, resurrected a bygone spirit of exploration with a Gen X twist and managed to come home safely with lots of photos and video. They also went where no kayaker had gone before.
"And now there has been a kind of gold rush to run that river," said John Weld, owner of Immersion Research, a kayaking gear company in Confluence, Pa., and primary sponsor of the IR Vacation to Hell.
And bringing attention to the unrun river was the whole point.
Weld wanted to do for kayaking what W.L. Gore and Associates, the inventors of Gore-Tex, had originally done for mountaineering with the Shipton-Tilman grants, which are named for a pair of pioneering climbers.
Weld won two Shipton-Tilmans, but used them for whitewater kayaking expeditions: a crossing of Baffin Island in the Canadian Arctic in 1992 and a traverse of Borneo in the Malay Archipelago in 1997.
The Vacation to Hell was a dream he shared with kayaking pal and business partner Daniel DeLaVergne, who was killed by a train a year ago.
"In climbing, in terms of exploratory trips, all the big stuff has been bagged. But in kayaking, my God, you can go anywhere. There is so much unrun whitewater," Weld said.
The twist in the Vacation To Hell is that unlike the Shipton-Tilman grant, the judges would decide the destination, and reveal it only after a winner had been chosen.
The Range Life team is made up of Seattle residents Todd Gilman, 33, a sales representative for New Belgium Brewing; Shane Robinson, 33, a law student trying to settle down after a life as a ski and kayaking bum; Andrew Oberhardt, 27, a computer programmer for Microsoft; and Bryan Smith, 30, of Squamish, British Columbia, who works as a carpenter while finishing up his first feature-length sea kayaking video. For local knowledge, they recruited Piero Vellupino, a kayaker and whitewater outfitter in Peru.
They won with a video gleaned largely from clips they had posted on The Range Life blog, where Gilman, Smith and Robinson share photos, videos and experiences from their kayaking expeditions. They took the name from a band they like, but it also reflects a way of life that is tied to places far from the beaten track.
"We focused on the fact that ... whether or not we win this thing we will be out expeditioning around here or up in Canada or wherever else we feel like it," Gilman said of their application.
The clincher was a clip showing them spending days trying to remove a log blocking a narrow gorge on Skookum Creek in British Columbia.
"For me to feel alive and in that moment you have to feel dwarfed, like I'm outnumbered by nature, like I'm a small part of what's going on," Gilman said of what drives him to kayak. "You're tuned into the forces of nature, plugged in, doing something exhilarating, fun, and it's fully dependent on you. Your survival is in your hands. Plus, you get to go to the most amazing places."
Oberhardt said: "I don't want to go to Disney World. I don't want to go to the mall. I want do something people have never done before."
He got his wish on the Rio Huallaga.
After a year of research and planning, they got a lift out of the little town of Huanuco in a broken down pickup truck and put in on the river, where they were struck by the towering beauty of the Andes and the stench and litter from the towns upstream. The first three days were spent paddling gnarly gorge whitewater that had been run in 1999. They carried a satellite phone for calling their sponsors to update the trip blog, and a photo of DeLaVergne, which they gave a place of honor in camp every night.
On day four, facing virgin territory, they woke up to a river that had gone from dark green to orange-brown because of a flash flood upstream. It threw an ominous mood on the group.
"It was almost like the river changed character," Robinson said.
Less than an hour downriver, they stopped. The rapid ahead had big hydraulics - holes created by the swirling current that can swallow a kayak whole - and lots of sieves - rocks that will trap a boat and drown a paddler as the powerful current pours through. At the bottom, a boulder the size of a minivan had fallen across the canyon, so the river disappeared underneath it.
They climbed the wall to scout. From the top of the canyon, jungle vines grabbing their legs, they could not see the river below, and could not climb down to the river level. The map showed this went on for 20 miles. The logical next step would have been to hire a helicopter, but such an option doesn't exist in the Andean outback. Vellupino reminded them that if they got in trouble, there would be no rescue.
"I think we have all run rapids that are harder, but in a first-descent situation, very isolated, very exposed, it was an easy judgment to make that this isn't a rapid that it would be prudent to be running," Robinson said.
The only way out was to scramble 1,000 feet up the canyon. Hauling their kayaks and gear up with ropes, they found a little bench halfway up, where they hacked a campsite out of the jungle with machetes. It was crawling with ants. The next day they left their boats behind as they hacked through jungle toward a farmhouse in the distance, where their strange clothes scared the locals, but they were able to hire burros to carry their gear to a road. There they hitched a ride on a truck back to Huanuco.
"It was disappointing that we didn't complete the river and had to hike out," Oberhardt said. "But the fact that we did hike out meant we saw amazing views of the river and canyon we never would have seen if we stayed down in the bottom. We looked back up at some of the sections we had run and from the top it was formidable. If I had seen that, I don't know if I would have put in and run that section."
And they have been getting inquiries by kayakers who followed their progress and hope to press farther downriver in expeditions to come.
The second Vacation to Hell is now in the planning stage. A team of sea kayakers from Florida, Tennessee and Canada, all in their 40s, was chosen last weekend for a mission to the Canadian Arctic. They will paddle from the northern tip of Baffin Island across 60 miles of open water to Devon Island, which is uninhabited except for a research station where NASA tested Mars rovers. There the sea kayakers get to choose between hauling their boats 45 miles overland or paddling around the glacier draped shoreline, with little chance of finding a campsite. Then there are another 50 miles across more open water to Griese Fjord on Ellesmere Island.
"Two big open-water crossings and an overland crossing. You really put the kayak to the test," Weld said. "A successful mission will find some MacGyver-esque technique for getting across the island."
Russell Farrow, 47, who owns a sea kayaking shop in Clearwater, Fla., is looking forward to the challenge with his pals who make up the Sweetwater team, named for his shop.
"It's not just about paddling," Farrow said. "That's the easy part. It's about being able to think outside the box when it comes time that things go wrong.
"That's the tougher part."
Copyright 2018 The Associated Press. All rights reserved. This material may not be published, broadcast, rewritten or redistributed. We strive to uphold our values for every story published.