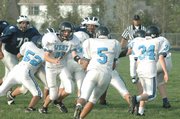 An impressive 32-point first quarter by Southwest doomed the visiting West Warhawks as the Bulldogs rolled to a 56-6 victory on Thursday.
The action started on the opening kick-off as freshman Matt Cole returned the West offering 80 yards for the game's first touchdown.
After that the Bulldogs took to the ground not throwing a single time in the game and racked up 264 yards rushing and six more touchdowns. Cole had two more scoring runs and his teammate Cody Oller was tops with four. The Bulldogs were 7-for-7 on two-point conversions, with Cole, Oller and Alec Heline each having two and Darrin Sorem added the final two points.
With the score such as it was after one quarter, good sportsmanship kicked in.
"You tell them to keep playing hard," Bulldog coach Skip Benett said. "But they need to play hard within the parameters of how the game is going. You don't blitz and you don't pass."
Southwest improved to 6-1 on the season and travels to Central next week.
Copyright 2018 The Lawrence Journal-World. All rights reserved. This material may not be published, broadcast, rewritten or redistributed. We strive to uphold our values for every story published.