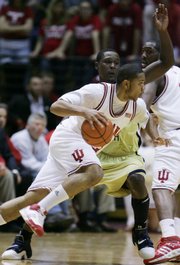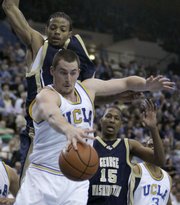 First time out, O.J. Mayo scores 32 points for the University of Southern California. In his first game for Indiana, Eric Gordon tops that with 33. After three games, Kansas State's Michael Beasley is averaging 30.0 points and 16.6 rebounds. Looking at it from that lofty stratosphere, trying to make the case that it's hard for freshmen to play Division I basketball is like suggesting someone needs to open a soup kitchen to feed those poor Kennedys.
College basketball, though, is not as easy as those guys make it appear.
"When the lights come on, it's a big jump for most new players," says Washington State Coach Tony Bennett, who played in college at Wisconsin-Green Bay and for the NBA's Charlotte Hornets. "Every level you go up, you think, 'Well, it can't be that much faster and more physical.' It certainly is."
The success of the superfreshman distorts the grading curve for the many who discover how much they don't know: thick playbooks, opponent tendencies and high-pressure situations. At the CBE Classic in Kansas City, several highly-regarded freshmen showed they have room to grow.
For the first time, UCLA center Kevin Love played meaningful games against defenders roughly his size, who had been instructed in the science of defending with a game plan designed specifically to limit his impact. Those who look only at Love's 18 points and 16 rebounds in the Bruins' 71-59 victory over Maryland, or his tournament MVP award, might conclude he had no problems. There were moments, however, when he struggled against the double- and triple-teams employed by the Terps and Michigan State.
The Spartans' freshman trio of point guard Kalin Lucas and wings Chris Allen and Durrell Summers played their first heated road game against Missouri. Given that Kansas City is 125 miles from Mizzou's campus, the game will be figured into the NCAA's Ratings Percentage Index as a neutral site contest, but the Tigers will have few home crowds as rowdy and supportive as the 18,022 who filled the new Sprint Center. Allen, in particular, appeared to be affected. Summers was not productive.
"You don't go against anything like that in high school," Summers says. "You had to feed off the energy your teammates were giving because pretty much the whole crowd was against us."
When Maryland Coach Gary Williams looks at his bench, he sees almost nothing but freshmen. There isn't a Derrick Rose among them. There are players such as guard Adrian Bowie, a lively prospect who countered three nice baskets in a consolation loss to Missouri with two charging fouls among six turnovers.
"It can't bother me," Williams says. "I have to play those guys. I feel good putting them in."
He'd have sounded more believable if Love or Gordon were on the Terps' roster.
Copyright 2018 The Lawrence Journal-World. All rights reserved. This material may not be published, broadcast, rewritten or redistributed. We strive to uphold our values for every story published.