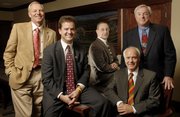 The city's largest real estate agency is gaining a partner just as it drops its national franchise affiliation.
Coldwell Banker McGrew Real Estate - already set to end its 10-year relationship with Coldwell Banker, effective Saturday - is merging with Lawrence Realty Associates.
The merger, which also takes effect Saturday, will give the combined McGrew Real Estate a total of 95 agents and about 17 support staffers, plus another office in Lawrence: the Lawrence Realty headquarters at 4321 W. Sixth St., which will be added to the existing McGrew locations at 1501 Kasold Drive and 4100 W. Sixth St.; McGrew also has an office at 1402 Church St. in Eudora.
Judging by last year's sales numbers, the combined agency accounts for about 43 percent of the market share in Lawrence, officials said.
Lawrence Realty's leaders, Pat Flavin and John Bush, also will become vice presidents and members of the McGrew management team, joining McGrew leaders Mike McGrew, chairman and chief executive officer; Gary Nuzum, president; and Dennis Snodgrass, vice president and sales manager.
"We've admired the way they do business for some time," McGrew said. "They've been great, innovative competitors, and we're excited to be able to bring some of their processes into our larger company."
Pat Flavin, Lawrence Realty's president and managing broker, said that the merger would build on the combined strengths of the agencies.
"All business models are changing," he said. "We have to stay relevant. We have to do things that people feel good about. : You can't just do what you've always done."
Lawrence Realty formed in 2000, when Flavin, Bush and agents split from CEK Insurance. CEK Real Estate had traced its roots to 1931.
Buyers and sellers won't notice many immediate changes, other than new signs going up outside listings beginning Saturday, officials said. The buyers and sellers have been signing new agreements with agents to reflect the combined company.
Stephens Real Estate - the community's second-largest agency with 50 agents, seven support staffers and offices in Lawrence and Baldwin City - doesn't plan on making any changes to respond to McGrew's move back into independence or agreement to merge with Lawrence Realty, said Mark Buhler, broker and manager for Stephens.
But McGrew obviously has decided to spend money to grow during lean market times, Buhler said.
"Like all things in business, nothing's an easy deal," Buhler said. "They're taking some risk. They feel that's the way they need to go in this marketplace. We'll know more in a year, actually."
Copyright 2018 The Lawrence Journal-World. All rights reserved. This material may not be published, broadcast, rewritten or redistributed. We strive to uphold our values for every story published.